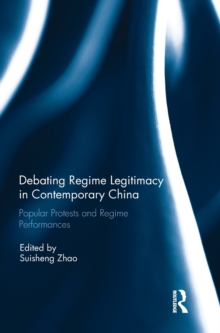 Debating Regime Legitimacy in Contemporary China : Popular Protests and Regime Performances
Hardback
Description
This comprehensive volume is a three-part study of whether the Chinese political system has maintained a significant degree of regime legitimacy in the context of rising domestic discontent, in particular the popular protests against socio-economic inequality and environment degradation.
Part I presents the scholarly debate on the theoretical refinement and empirical measurement of regime legitimacy in contemporary China.
Part II focuses on the challenges to regime legitimacy of the increasingly widespread popular protests and civil activism.
Part III examines the regime's responses to these challenges, including coercive repression, adaptation, and economic performance.
This book finds that, while repression can hardly stop popular protests - and often backfires - economic performance legitimacy is increasingly difficult to be maintained.
The only way out is the adaptation to the changing domestic and international environment.
The chapters in this collection were originally published in the Journal of Contemporary China.
Information
Format: Hardback
Pages: 250 pages
Publisher: Taylor & Francis Ltd
Publication Date: 21/03/2017
Category: Political structure & processes
ISBN: 9781138289611