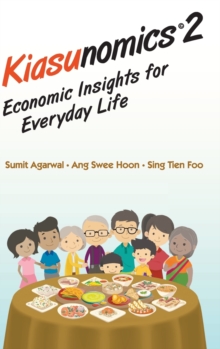 Kiasunomics (c)2: Economic Insights For Everyday Life
Hardback
Description
Have you ever wondered how one can save from taxi rides during surge pricing?
Why you would shop more under sunny weather? What effects does a bankrupt neighbour have on residents living in the estate?
Kiasunomics (c)2 explores these issues and more in a light-hearted and easy-to-understand manner, by showing the economic ramifications of individual choices through the lens of Teng, the protagonist of this book, and his family and friends.
Based on research from the National University of Singapore, the book explains the influences and consequences of the decisions made by all of us, using simple economic logic.This sequel to , a finalist at the Singapore Book Awards 2018, fast forwards a couple of years and follows Teng in his mid-career as a taxi driver.
Ferrying passengers for a living, Teng has to grapple with challenges arising from ride hailing services.
As one of the breadwinners in a three-generation household, Teng's ability to make wise financial decisions in a fast-changing world becomes increasingly important in attaining his dream of moving his family up the socio-economic ladder.This book covers hot and timely topics, which include: falling prices of old Housing and Development Board flats, rising land prices, wealth disparity among households, the Central Provident Fund retirement policy, regulation of car population, ride hailing services, and mobile payments.
These are unravelled through the authors' application of research findings.The book brings to light the relevance of research, often seen as esoteric, on our daily life and decision making.
It also bears on policy implications, particularly issues on transportation, housing, and retirement.
Information
Format: Hardback
Pages: 200 pages
Publisher: World Scientific Publishing Co Pte Ltd
Publication Date: 11/06/2020
Category: Behavioural economics
ISBN: 9789811217098