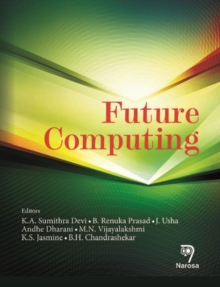 Future Computing
Hardback
Description
FUTURE COMPUTING discusses new technology advancements such as Cloud Computing which create new possibilities at lower costs and potential risks.
Cloud computing is an aggregation of computing power and large amount of information.
Many stake holders are looking into its current use and future evolutionary path.
Mobile Technologies will undoubtedly include a diverse array of computing smart devices that look very different from the form factors available today such as touch screens, smartphones and tablets.
These powerful cell phones have computer chips integrated into their designs, making them extremely portable and multifunctional.
They have unique operating systems and software applications designed specifically for them.
These devices also blend wireless networking technology, like cellular service and Bluetooth compatibility, with computing technology to let users go online anywhere and at any time.
The book provides some surprising and useful insights into what current and potential users see as the most important benefits of cloud and mobile technologies which are the future computing technologies.
Information
Format: Hardback
Pages: 212 pages
Publisher: Narosa Publishing House
Publication Date: 04/09/2013
Category: Computer science
ISBN: 9788184872712