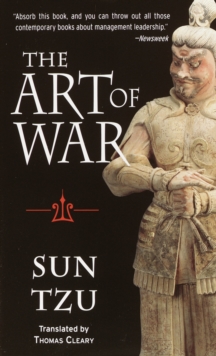 Information
Format: Paperback
Pages: 240 pages
Publisher: Shambhala Publications Inc
Publication Date: 11/01/2005
Category: Warfare & defence
ISBN: 9781590302255
Other Formats
Hardback from £7.39
Paperback from £2.50
Paperback / softback from £2.99
EPUB from £4.79
Free Home Delivery
on all orders
Pick up orders
from local bookshops
Reviews
Showing 1 - 5 of 14 reviews.
Previous | Next
Review by rozmarins
16/06/2015
Hmm, this book can really be used in company`s management, because some war strategies are quite similar to organization management. For example, need for clear and not doubtful commands, advice to put best soldiers (workers) on first line, importance of understanding ones own weaknesses and strengths etc.Overall, it`s boring literature if one don`t think how to use those advices in life.[more: rozmarins.blogspot.com]
Review by JustAGirl
16/06/2015
All the guff about it being the greatest management text in history is of course utter nonsense, but it's an interesting read. I preferred and would recommend the Hagakure if you're after samurai warrior philosophy.
Review by adawnt
16/06/2015
I heard a lot of people talking about "The Art of War." In business, during news commentary...everywhere. I find it funny, when reading it, to see something very simple. Descriptions of the appropriate duties of the army and generals are basic, and the "secrets" of successful conquering is good common sense. I suppose the reason it seems so enlightening is the lack of common sense in the huge majority of people. Saying that, this was a great opporunity to see some of the basis for business practices overseas and at home. There are many people who think about business as warefare. These tactics will be used, and should be understood. Because common sense is no longer common, and probably wasn't in ancient China, this is a great guide to dealing with conflict...if you want to win.
Review by tyroeternal
16/06/2015
The Art of War is a wonderful, short, and classic read that looks good on any bookshelf. While it reads in the form of a short choppy manual it is well worth anyone's time. This book has, for good reason, found it's way into the hands of thousands... maybe millions of people since its original writing.
Review by afderrick
16/06/2015
An interesting book, written with just short quips of information but it still seemed to flow rather seamlessly. A decent book with some good info, some of it could be still used today some of it would obviously not apply anymore to today's wars. A good read, enjoyable, and really quick.