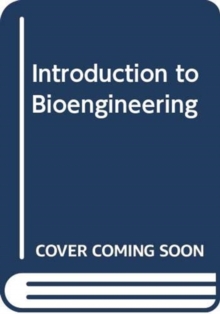 Introduction to Bioengineering
Hardback
Description
Introduction to Bioengineering provides a balanced overview of biomedical sciences from an engineering viewpoint.
It explains the engineering fundamentals in relevance to biomedical sciences and utilizes these principles in various biomedical applications as examples or exercise problems.
Each chapter encompasses a number of basic engineering sciences such as fluid mechanics, strength of materials, statics and dynamics, basic thermodynamics, electrical circuits, and material science.
A significant number of numerical problems have also been included that use data from recent literature.
This is an excellent resource for engineers with an interest in medicine.
Information
Format: Hardback
Pages: 600 pages
Publisher: John Wiley and Sons Ltd
Publication Date: 31/01/2020
Category: Biomedical engineering
ISBN: 9780470036327