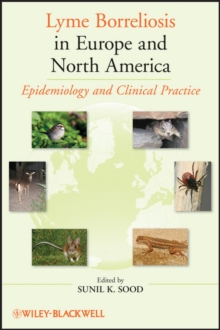 Lyme Borreliosis in Europe and North America : Epidemiology and Clinical Practice
Hardback
Description
The facts about Lyme disease, from epidemiology to treatment to control Lyme borreliosis, popularly known as Lyme disease, remains the most commonly reported tick-transmitted infection in North America and Europe.
A growing body of scientific and clinical evidence has facilitated early diagnosis and effective treatment.
Nonetheless, there are a number of misconceptions about this infectious disease that have given rise to unproven, potentially dangerous alternative therapies.
In Lyme Borreliosis in Europe and North America, a team of authors whose expertise spans basic research, epidemiology, and clinical practice has compiled evidence-based information on Lyme borreliosis.
Presents all the latest evidence needed to diagnose, treat, and prevent Lyme disease Lyme Borreliosis in Europe and North America begins with a review of the disease's epidemiology, the causative Borrelia genospecies, and tick vectors.
It then explores pathogenesis, diagnosis, and treatment.
Next, the book examines the role of serologic, culture, and molecular diagnostic methods. The book also features a chapter on prognosis, offering an evidence-based review of outcome studies, as well as practical advice to physicians to help them manage the challenging clinical scenario of chronic symptoms attributed to Borrelia infection.
The final chapter is a guide to prevention strategies, including the management of tick bites.
Examines similarities and differences in Europe and North America Because differences in Borrelia genospecies are responsible for differences in the clinical presentation of Lyme borreliosis between North America and Europe, this book provides descriptions of the disease as it presents on each continent.
Most of the chapters have been cowritten by experts on each continent, in order to provide a balanced perspective that combines European and North American findings, practices, and experiences.
Helps everyone better understand, treat, and control Lyme disease Lyme Borreliosis in Europe and North America is a comprehensive reference, ideal for clinicians, researchers, and public health officials who seek to treat and control Lyme borreliosis. It will help them better understand the facts and make sense of the misconceptions and myths that surround this infectious disease.
Information
Format: Hardback
Pages: 262 pages
Publisher: John Wiley & Sons Inc
Publication Date: 20/04/2011
Category: Biology, life sciences
ISBN: 9780470647523
Free Home Delivery
on all orders
Pick up orders
from local bookshops