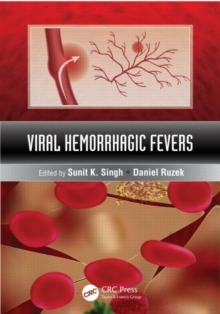 Viral Hemorrhagic Fevers
Hardback
Description
Viral hemorrhagic fevers have captured the imagination of the public and made their way into popular books and movies by virtue of their extreme virulence and mysterious origins.
Since 2001, concerns have grown about the potential use of many hemorrhagic fever viruses as biological weapons.
This has led to a resurgence in research to develop improved diagnostics, vaccines, and therapeutics-both for biodefense purposes and to treat naturally exposed persons.
Written by international experts, Viral Hemorrhagic Fevers represents a major contribution to the virological literature and updates the state of knowledge of these dangerous illnesses. Topics include:A historical perspective and information on pathogenesis and immune responsesAnimal models, which are critical to the development of vaccines and therapeuticsThe roles of high-containment facilities and specially trained scientists in researchPrevention and control, including diagnostics and vaccine developmentOld World Lassa and Lujo viruses and the New World Junin and Machupo virusesGuanarito viruses and their cellular receptorsBunyaviruses, including Rift Valley Fever, Crimean- Congo hemorrhagic fever, and hantaviruses that cause hemorrhagic fever with renal syndromeThe Ebola and Marburg filovirusesFlaviviruses, including dengue fever, yellow fever, Kyanasur Forest, Alkhurma, and Omsk hemorrhagic fever viruses and other flaviviruses with hemorrhagic potentialVirologists, clinicians, biomedical researchers, microbiologists, and others needing a rapid overview of the nature of these illnesses will find this book an essential resource on clinical and basic science aspects of many viral hemorrhagic fevers.
The book will also provide researchers with a springboard to further inquiry in combating what has become a major global threat.
Information
Format: Hardback
Pages: 596 pages, 12 page/16 figure color insert follows page 300
Publisher: Taylor & Francis Inc
Publication Date: 18/07/2013
Category: Infectious & contagious diseases
ISBN: 9781439884294
Free Home Delivery
on all orders
Pick up orders
from local bookshops