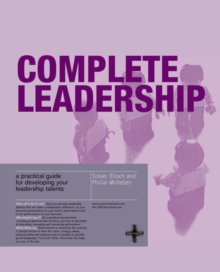 Complete Leadership : A practical guide for developing your leadership talents
Paperback
Description
Everybody can be a better leader, a more complete leader.
Everybody can use more of their potential to inspire and empower others to achieve better results.
Great leadership isn't formulaic, nor is it easy, but it is learnable.
This book helps you assess your current leadership abilities, across a whole range of skills - and then shows you how to improve them.It will help you understand your team's perception of you, rate your performance on the "leadership scorecard" and coach yourself to better leadership skills.
Free Home Delivery
on all orders
Pick up orders
from local bookshops