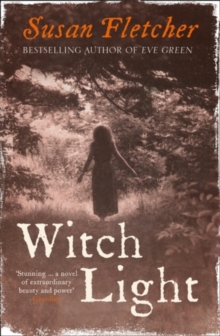 Description
The new novel from Susan Fletcher, author of the bestselling `Eve Green' and `Oystercatchers'.1692.
Corrag, a wild young girl from the mountains of Scotland, has been imprisoned as a witch.
Terrified, in a cold, filthy cell, she awaits her fate of death by burning - until she is visited by Charles Leslie, a young Irishman, hungry to question her.
For Corrag knows more than it seems: she was witness to the bloody and brutal Massacre of Glencoe.But to reveal what she knows, Corrag demands a chance to tell her true story.
It is a tale of passion and courage, magic and betrayal, and the difference that a single heart can make to the great events of history.
Information
Format: Paperback
Pages: 384 pages
Publisher: HarperCollins Publishers
Publication Date: 01/03/2011
Category: Historical fiction
ISBN: 9780007321605
Free Home Delivery
on all orders
Pick up orders
from local bookshops
Reviews
Showing 1 - 3 of 3 reviews.
Review by celticlady53
16/06/2015
The writing of this book is very descriptive and sad. I just can not finish it. I tried numerous times but if I can not get into a book after a 100 pages or so, I will most likely not finish it. I count the story to be dark and depressing...I do thank Library Thing for the copy of this book.
Review by Her_Royal_Orangeness
16/06/2015
Scotland, late 1600s. Corrag's mother, like her mother before her, has been accused of witchcraft and sentenced to die. Corrag flees into the wilderness, eventually arriving in Glencoe in the Scottish Highlands. Here, among the MacDonald Clan, she finds sanctuary. No pointing fingers, no accusations of 'witch.' Her talent for herbal healing is accepted and utilized; her unusually solitary lifestyle and love of nature does not cause suspicion. Yet even as Corrag finds peace, Britain is erupting with political upheaval. William of Orange, a Dutchman, has usurped the throne, and King James has fled to France. Loyalties are fiercely divided - some accept the new ruler, others battle to see King James restored as leader.The MacDonald Clan are Jacobites, supporters of King James. Eventually, though, they are forced to sign an oath swearing allegiance to William. They do so, but miss the signing deadline by six days. And for this, they are savagely murdered by William's armies. Corrag is aware of the impending massacre, and tries to warn the Clan to flee. A few listen, most do not. And when the soldiers become aware of Corrag's treasonous act, they accuse her of witchcraft and condemn her to burn.Shackled in chains in a prison cell, Corrag tells her story to Charles Leslie, an Irish minister and Jacobite. Charles is investigating the Glencoe Massacre in hopes that the truth of the event will convince James to fight for his throne. At first, he sees Corrag as what she has been accused of - a witch. But as her story unfolds, Charles begins to see her as the MacDonald clan did - a woman who looks at the world through different eyes, who is self-sacrificing and brave, and who wants only to be accepted and loved. And as Charles' heart is changed, so is Corrag's destiny.I LOVED THIS BOOK! With huge love! It's such an amazing story, all based on historical events and people. The Independent described it as "a poetic intense narrative" and it is, to the nth degree. It's just lovely, so rich and lyrical. And Corrag may well be one of my favorite protagonists, ever. She's just amazing, and so well depicted in this book.Also, I truly appreciated how the author portrayed the witch-hunts that took place in Europe during this time. These women were not witches, but were looked on with suspicion and hatred because they, in some way, did not conform to society. In the afterward, the author wrote, "The last execution of a so-called witch in Britain was in 1727. The Witchcraft Act of 1735 put an end to the generations of fear and persecution. Over the previous three hundred years it is estimated that over 100,000 women - mostly knowledgeable, independent, outspoken women - stood trial, accused of witchcraft." This is my favorite passage from Witch Light, which summarizes the essential theme of the story. Corrag: "I think how we live our lives is our own doing, and we cannot fully hope on dreams and stars. But dreams and stars can guide us, perhaps. And the heart's voice is a strong one. Always is. Listen to it, is my advice. Your heart's voice is your true voice. It is easy to ignore it, for sometimes it says things we'd rather it did not - and it is so hard to risk the things we have. But what life are we living, if we don't live by our hearts? Not a true one. And the person living is not the true you."
Review by bdtrump
16/06/2015
I can see how this book will appeal to many, but I had a hard time getting invested into the characters. The point of view and diction was shifty and uninteresting to me, and the plot moved slowly and with no clear direction for much of the work. I like the overall idea, but had a hard time staying interested.<br/><br/>1/5 for a personal lack of interest in the characters and slow/uncertain plot, although kudos for writing about a less covered time period and area of world history and historical fiction.