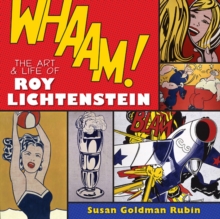 Whaam! The Art and Life of Roy Lichtenstein
Hardback
Description
In the latest addition to Abrams' successful line of picture book biographies, read about Roy Lichtenstein's long career as a teacher, artist and innovator, and how he changed the way that people thought about art.
Classically trained in painting and drawing, Roy found inspiration from cartoons, newspaper comics and children's books - images most people didn't consider serious art.
By painting painstaking interpretations of his original sources, including the printer's dots and paper flaws, he transformed these popular images into works of art.
He also chose to paint, in meticulous detail, the building blocks of painting - a single brushstroke or the back of a canvas - drawing attention to the way that artists use these tools.Like Andy Warhol, a fellow member of the Pop Art movement, Roy's choice of everyday, iconic subjects for his work revolutionized the art world.
Roy and the other pop artists broke down the rules about what makes proper subjects for fine art.
In over a thousand paintings and numerous other works, Roy brought familiar images into new light and captured the imagination of the world.
This book includes an index and where the art is found in the USA, UK and Canada.
Free Home Delivery
on all orders
Pick up orders
from local bookshops