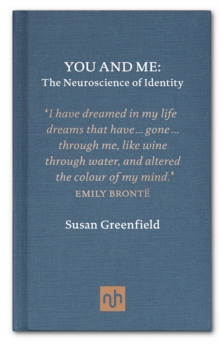 You and Me : The Neuroscience of Identity
Hardback
Description
Identity is a term much used yet hard to define. Perhaps for this reason, the concept has long been a favourite with philosphers, and for the very same reason has been avoided by brain scientists, - until now.
In this neurobiological exploration of identity, Greenfield briefly reviews the social perspective from finger prints, to faces, to signatures of the many ways we try to identity ourselves, - in vain.
The psychiatric perspective however does offer some valuable clues that then leads to an excursion into the physical brain: the neuroscience perspective.
But identity cannot just be an objective phenomenon: hence any pertinent brain phenomena have to be seen also, as they are in the follwing chapter, from an individual perspective.
Armed with the insights gained from these diverse approaches, Greenfield attempts to conceive of actual scenarios in the physical brain that would correspond to familiar examples of identity.
However, given the physical brain adapts exquisitely to the environemnt, and the 21st Century environment is changing in unprecedented ways, are we facing correspondingly unprecedented changes to our identity?
Free Home Delivery
on all orders
Pick up orders
from local bookshops