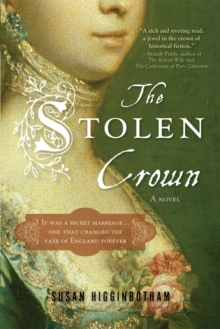 Description
Then King Edward dies unexpectedly. Richard III, Duke of Gloucester, is named protector of Edward and Elizabeth's two young princes, but Richard's own ambitions for the crown interfere with his duties...Lancastrians against Yorkists: greed, power, murder, and war.
As the story unfolds through the unique perspective of Kate Woodville, it soon becomes apparent that not everyone is wholly evil-or wholly good.
Information
Format: Paperback
Pages: 400 pages
Publisher: Sourcebooks, Inc
Publication Date: 01/03/2010
Category: Historical fiction
ISBN: 9781402237669
Free Home Delivery
on all orders
Pick up orders
from local bookshops
Reviews
Showing 1 - 5 of 13 reviews.
Previous | Next
Review by celticlady53
16/06/2015
The story takes place from 1464-1496 and tells the story, mostly in Harry Stafford( Duke of Buckingham) and Katherine Woodville's voices. Katherine is the sister of Elizabeth, who when Kate is quite young, marries King Edward IV secretly. Kate and Harry are married at an extremely young age, Kate was 6 and Harry was around 11. Their marriage was not consumated until Kate was at least 17.King Edward IV dies from a short illness and his sons Edward V and Richard, Duke of York, are in succession for the throne, but Richard of Gloucester has other ideas and as the boys protector he assumes the throne supposedly until Edward is old enough to assume the throne. He has Elizabeth and Kates brother Anthony arrested and later executed for plotting to kill Edward V. Richard then gives orders for the boys to be locked up in the Tower at the advice of Lord Hastings whom Richard III later has executed.Richard declaring that Edward IV's marriage to Elizabeth Woodville was illegitimate and that, in consequence, Richard, not his nephew, was the rightful king. According to this story Richard admits to Harry that he had issued an order to have Edward IV's sons killed. No one really knows for sure if this happened or not and there have been many different historians debating this issue.Richard III is the last king of the house of York and the last of the Plantagenet dynasty. As lifelong friends, Harry is loyal to Richard until he realizes what Richard did to Edward V and the Duke of York. The story continues on and there are many characters portrayed in the story and it was a bit difficult to keep them all straight. I felt that the early years of Harry and Kate's friendship and marriage was a very loving one. They had 5 children together and seemed to be very happy.There were two big rebellions against Richard. The first, in 1483, was led by Harry Stafford. The revolt collapsed and Buckingham was executed for treason against the king at Salisbury near the Bull's Head Inn. In 1485 there was another rebellion against Richard, headed by Henry Tudor, 2nd Earl of Richmond and his uncle Jasper. The rebels landed troops and Richard fell in the Battle of Bosworth Field, the last English king to die in battle. Henry Tudor then becomes King Henry VII and marries King Edward IV's daughter Elizabeth and they become the parents of Margaret, Arthur and Henry who becomes King Henry VIII.I feel that the author did an impeccable job of research and telling this story in such a way that I found it very interesting although like I said I had trouble with all the characters. I liked the story of Harry and Kate and the love that they had between them, in spite of what some critics have said that Harry despised Kate. I kind of like this version better. Kate does go on to marry two more times, to Jasper Tudor, King Henry VII's uncle and to Richard Wingfield. This is a must read for historical fiction fans.About the AuthorSusan Higginbotham is the author of three historical fiction novels. The Traitor's Wife, her first novel, is the winner of ForeWord Magazine's 2005 Silver Award for historical fiction and is a Gold Medalist, Historical/Military Fiction, 2008 Independent Publisher Book Awards. She writes her own historical fiction blog and is a contributor to the blog Yesterday Revisited. Higginbotham has worked as an editor and an attorney, and lives in North Carolina with her family.
Review by grnpickle
16/06/2015
I just couldn't get into this. I loved her other books but there were just too many names getting flung around to follow along without rereading sections at a time. Nope, not for me.
Review by knittingmomof3
16/06/2015
From my blog...The Stolen Crown is a beautifully written novel filled with eloquent prose depicting a dreadful period of the English Monarchy, The War of the Roses. The Stolen Crown begins near the end of 1493 with Duke Harry Stafford imprisoned and about to be executed for treason. Susan Higginbotham masterfully takes the reader back to the beginning allowing the tale to unfold, told in alternating voices of Duke Harry Stafford and Katherine Woodville, and through them the reader is taken the best and worst of times in England starting with 1464 and ending in 1496 England. This time period is best known as The War of the Roses and Higginbotham's novel is not only well researched, but also expertly crafted rendering the reader unable to set the novel down. The Stolen Crown is an absolute must read for anyone who is a fan of historical fiction. For those who have yet to try this genre, this novel would make an excellent introduction to the genre.
Review by sensitivemuse
16/06/2015
Well, the book started off a little too slow for me and although it was interesting to read about their lives, I found it not as interesting as some other historical fiction novels I have read in the past. What nearly threw me off of this book was the abundant number of characters, and the majority of them having the same name. So, it was hard for me to figure out who was who. There is a character page in the beginning of the book, detailing who's who in each family and how they are related. It's a lot of information to take and I would have preferred it in family tree format (it's presented as one long list). It did seem overwhelming for me and keeping the characters straight is difficult in this novel. I think one would have to be rather familiar with the history (Wars of the Roses, the Reigns of Edward IV and Richard III, and the Princes in the Tower) to actually grasp the characters and the main events in the storyline. I am not familiar with it, I'm sure if I was, my enjoyment of the novel would be magnified tenfold. However, I did not give up and continued reading - as I do have a love for history and although the plot didn't seem to go nowhere, it did pick up the pace halfway through the novel. Especially events after the death of Edward IV, this is where the story gets a lot more interesting. The narration from Harry dominates most of the time but you get an interesting point of view of events (like the Princes in the Tower). It's hard not to like him. I thought at first he was just a normal spoiled brat who cared about his inheritance and land but as he grew older and realized who Richard really was, it changed him and I felt a great feeling of sympathy towards Harry. I'm not sure how I feel about Katherine. I admired her after having to go through a lot of tragic events of losing her family and loved ones but I thought both Katherine and Harry were indeed fit for one another and 'looked' great together. I loved the ending of the novel, there was a feeling of hope and happiness that Kate deserved after what she had been through. Also, I didn't realize Jasper Tudor could be such a dashing man (albeit, he had a very small part in the novel towards the end but it was enough to make an impression to me). The author's note is very informative and extensive but it is well written and a great follow up to those not familiar to the history.Overall, I would say, don't give up on this novel if you feel so overwhelmed with the names and characters. If you get the general idea on who is who then reading this should not be a problem. I recommend this novel to those in love with history particularly the Wars of the Roses, Richard III and the Princes in the Tower however those new to that time period like I am, give it a chance. I found myself learning a lot and wanting to read more of the history to understand better of the events portrayed in the book.
Review by LoriHedgpeth
16/06/2015
As a relatively recent historical fiction reader, I had yet to read anything by Susan Higginbotham but had read rave reviews and energetic exclamations from other bloggers. Having finished my first Higginbotham novel, I completely understand it. In short, I LOVED The Stolen Crown. The Tudor period has been revitalized with the rash of historical fiction releases and the success of Showtime's The Tudors. The Stolen Crown takes place during the York/Lancaster reign, immediately prior to Henry Tudor's reign (father of the infamous Henry VIII). I didn't know much about this period, nor about Richard III. What I did learn was fascinating, between his relatively short reign and how he managed to acquire the crown (hence, the title of this splendid book). Ms. Higginbotham took very much supporting characters to this slice of British history, using Henry ("Harry") Stafford, the 2nd Duke of Buckingham and his wife, Katherine ("Kate") Woodville, as narrators of this complex story, rather than one of the kings themselves. And it works, many times over. I was immediately drawn into the story, thanks in equal parts to Ms. Higginbotham's descriptive and warm writing and the sympathetic and engaging Kate and Harry. In my mind, historical fiction novels can be a tricky business. So much research is necessary to go into them and sometimes the story itself can end up as dry as the proverbial Thanksgiving turkey. Not a bad thing, necessarily, but if you want a good, enriching story to go with your history, you might want more than just history. Ms. Higginbotham has no worries here. The story is rich with both history and characterization. The 15th century comes alive in the pages of this book and even if you know the story and the outcome, it's an incredible read and one I encourage you to make. Personally, I did not know all of the history surrounding these events but reading Ms. Higginbotham's tale sent me to do some online researching about the real people. Fans of historical fiction, have no worries. You should be more than pleased with The Stolen Crown. For those readers on the fence about the genre, this book may sway you into fandom territory. The Stolen Crown is not a bodice-ripper; while there is sex, it is mentioned more in passing than in exquisite (or excruciating) detail. There may be a few objectionable words here and there but if you take issue with that, the richness of the story will probably render the words a moot point. Is there anything about The Stolen Crown I didn't care for? Honestly, no. I enjoyed all the characters, even the ones you love to hate. I loved the richness of the characters, the way they were fully developed and I enjoyed the vivid descriptions of 15th century England. My time spent with Harry Stafford, Kate Woodville and a King of England here and there was absolutely worth every minute. Susan Higginbotham is firmly ensconced on my list of "must read" authors.