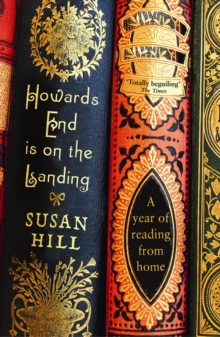 Howards End is on the Landing : A Year of Reading from Home
Paperback
Description
Early one autumn afternoon in pursuit of an elusive book on her shelves, Susan Hill encountered dozens of others that she had never read, or forgotten she owned, or wanted to read for a second time.
The discovery inspired her to embark on a year-long voyage through her books, forsaking new purchases in order to get to know her own collection again.
A book which is left on a shelf for a decade is a dead thing, but it is also a chrysalis, packed with the potential to burst into new life.
Wandering through her house that day, Hill's eyes were opened to how much of that life was stored in her home, neglected for years.
Howard's End is on the Landing charts the journey of one of the nation's most accomplished authors as she revisits the conversations, libraries and bookshelves of the past that have informed a lifetime of reading and writing.
Information
Format: Paperback
Pages: 240 pages
Publisher: Profile Books Ltd
Publication Date: 08/07/2010
Category: Memoirs
ISBN: 9781846682667
Free Home Delivery
on all orders
Pick up orders
from local bookshops
Reviews
Showing 1 - 5 of 33 reviews.
Previous | Next
Review by jwhenderson
16/06/2015
Thomas Wentworth Higginson wrote an essay called 'Books Unread' which appeared in The Atlantic Monthly in 1904. In it he wrote, "The only knowledge that involves no burden lies . . . in the books that are left unread. Susan Hill's memoir of a a reading life is about both books unread and books read; books lost and books found; books with which we travel and those books we read at home, yet allow us to travel to far away places. In short, Susan Hill shares some delightful moments that warm the heart and inspire the mind of any reader who loves his or her books. We each can identify with the stories she tells of delight in reading and experiencing what one famous author called "The Joy of Books".
Review by AdonisGuilfoyle
16/06/2015
The publisher's classification on the back of Susan Hill's book is 'memoir', which I wish I had noted beforehand! 'Howards End is on the Landing' is about reading and collecting books, but written from the personal viewpoint of an author with a cache of famous friends and acquaintances in her address book! Most of the 'choice' names selected here have at the very least signed an autograph for Hill - Kingsley Amis, Elizabeth Bowen, WH Auden, Roald Dahl, Edith and 'Sachie' Sitwell, and 'a postcard from Dirk Bogarde'. She comments on James Lees-Milne as writing 'the diaries of a name dropper and they irritate', and after mistaking a collection of author's anecdotes as a fond study of reading habits, I can understand. Personal taste is one thing, but every other enthusiastic promotion by Susan Hill of a writer's works is followed by, 'whom I first met ...' or even 'when babysitting for ...'! Nor are these references followed by intimate or insightful descriptions of the author, just a long line of adjectives.Still. When the subject does stray around to reading, and a lifetime of acquiring, shelving and re-reading books, everyone can relate to the author's memories and observations. Faced with a houseful of bookshelves stacked high and deep with fiction, reference, poetry and plays, Susan Hill decides to stop buying in and instead focus on the extensive library she has been acquiring for over fifty years. As an Amazon addict, I was inspired by her stamina!Looking through her own books (originally in search of one elusive title, Forster's 'Howards End'), Hill is reminded of the favourites from her own childhood, such as Blyton, and the picture books she read to her children. She also fondly recalls authors read and not read, met and 'not met' (few and far between), inspiring and important. I agree with her opinion of Dickens (mighty and flawed) and Austen (boring - yes, I think so, too!), and the 'embarrassing' Wimsey-Vane romance in Sayers' books. I agree that 'style wins, every time', and that my 'TBR' books are 'waiting for their time to come', but that if I don't like a book or an author, the problem is 'always us, never the book'. And yes, 'if it ain't broke, don't fix it' - holding the satisfying bulk of paper and print will never be replaced by an electronic gadget.However, I do like Australian fiction, hate Times New Roman, do not believe in annotating, folding or mutilating books (especially library books, being a librarian, but also my own collection) because I respect books. Hill's theory that people who maintain an orderly library of neat (or 'unloved', as she would no doubt see it) books are not booklovers is rubbish - I can read without breaking the spine so that all the pages fall out, and memorise favourite passages without defacing or dogearing the page.In a nutshell, this is the real joy of Susan Hill's reading reminiscence - the shared tastes and idiosyncrasies of readers everywhere, and the opposing but equally passionate approach to collecting and appreciating a library of your own. The author's literary connections do not interest me, but who can resist browsing through another person's bookshelf? Now I must compile my own list of forty books that I cannot live without, and add Naipaul and Brookner to my ever-increasing list of future reading material!
Review by NadineTouzet
16/06/2015
This book has convinced me to 1) upgrade my knowledge of English literature (I'm French), 2) visit and re-visit many of the books I have accumulated over the years. I am now looking at my personal library from a different angle, have added some titles based on Susan Hill's recommendations, and I am now making a rule to read one "old" book to every "new" book that enters the house. This has been a successful strategy so far. Susan Hill's style is so compelling and passionate in its own way, that when you close the book, it's as if you are coming ashore after a long journey.
Review by Nickelini
16/06/2015
Reading Howards End is on the Landing is a little bit like visiting an eccentric, slightly doddering aunt in her slightly shabby old house. One of those typically English cottages, with an overgrown, slightly messy--yet beautiful--garden, and inside, low ceilings, worn furniture, a fire blazing in the hearth, and a pot of tea waiting. And of course, stuffed bookshelves at every turn.After searching for a book, Hill decides she has too many unread books and old books that need rereading, and so she sets herself the goal to stop buying books for a year and read only what she already has. (I'm sure this sounds familiar to no one here! You know who you are.) Although Howards End is on the Landing is set up to be a memoir of a year of reading, it reads like that eccentric aunt telling you not only all about the books she's read and her opinions of them, but also some of her experiences in the literary world, and some of the characters she's met there. Each of the many short chapters reads like a tangent she's gone off on--often rambling, not always on point, but mostly entertaining.And like any eccentric aunt worth her salt, she's opinionated. We both worship Virginia Woolf, but Hill says she could read A Writer's Dairy every day, while I think it was a bore. She also says she just doesn't get the appeal of Jane Austen, which I think is an interesting comment from someone so entrenched in the literary world.Recommended for: people who like to read books about books.
Review by Liz1564
16/06/2015
Author Susan Hill has written a delightful memoir about books and their authors. It all begins when she searches for a copy of Howard's End and as she rummages through the many bookshelves in her Cotswald farmhouse she finds herself reminiscing about the books she sees. Some she had never read; some she wants to reread; some she doesn't even know how they got in her collection. So she makes a pact with herself to read only books in her library for one year. And Howards End is on the Landing is the result.Hill has led an exciting literary life. She published her first novel at 18, a novel she now thinks is not very good, but at the time was good enough to be the lead review in a major newspaper. Much to her embarrassment Graham Greene's novel A Burnt-Out Case, reviewed on the same day, was relegated to a corner. She wrote an letter to Greene expressing her dismay and he kindly answered her. E. M. Forester literally bumped into her at the London Library and once Edith Sitwell demanded she recite a poem. Iris Murdoch, Ian Fleming, even Benjamin Brittaon, lightly step through these pages, as do people who intimately knew Thomas Hardy and Virginia Woolf. It is name-dropping of the nicest sort and I shared her bemusement and delight at the encounters.Then there are the books she finds, reads or rereads, or rejects in her year of reading from home. No Austen because she admits she just doesn't get Austen even though she has read the novels many times. I can forgive her this because this is her very personal journey and not a criticism of Austen or Janites. Likewise, she will not read Canadian or Australian authors this year. (In this case, it would have been more politic just not to mention this.) In fact, there are few nonEnglish/American authors discussed here. Her year's reading, but not necessarily her library, is as English as her farmhouse.She reads mainly fiction, from children's books I never heard to Christie mysteries to forgotten masterpieces like Mayor's The Rector's daughter which, in her very personal opinion, is one of the greatest love stories written. Her nonfiction choices mainly are diaries and biographies. She admits that she likes James Lees-Milne and Frances Partridge for their gossipy glimpses into the long-gone world of the Bloomsburies and the snobbish lifestyles of beautiful people long dead.She finds books in drawers, tiny books on how to tie knots and the humor of Ronald Reagan, and wonders how they got in the house and in the drawer. As she reads she plays a game...what forty books would she take with her to a desert island? She rejects Hamlet for Macbeth; includes two Wodehouse's and one Mitford; To the Lighthouse, not Mrs Dalloway. And so it goes...I'm glad I poked through her shelves with her and I found some books we have in common that I really must read in 2011.