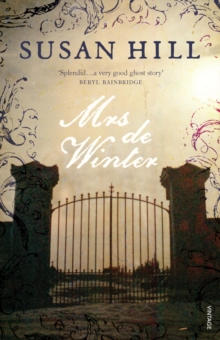 Mrs De Winter : Gothic Fiction
Paperback
Description
Rebecca was Daphne du Maurier's most famous and best-loved novel.
Countless readers wondered: what happened next? Out of fire-wracked ruins of Manderley, would love and renewal rise phoenix-like from the ashes of the embittered past?
Married to the sophisticated, wordly-wise Maxim, the second Mrs de Winter's life should be happy and fulfilled.
But the vengeful ghost of Rebecca, Maxim's first wife, continues to cast its long shadow over them.
Back in England after an absence of over ten years, it seems as if happiness will at last be theirs.
But the de Winters still have to reckon with two hate-consumed figures they once knew - both of whom have very long memories...
Information
Format: Paperback
Pages: 304 pages
Publisher: Vintage Publishing
Publication Date: 02/09/1999
ISBN: 9780099284789
Free Home Delivery
on all orders
Pick up orders
from local bookshops
Reviews
Showing 1 - 4 of 4 reviews.
Review by AdonisGuilfoyle
16/06/2015
The 'sanctioned' follow-up to 'Rebecca'; not as fanciful as Sally Beauman's 'Rebecca's Tale', but lacking in spirit. Ten years after the fire at Manderley, Maxim and Mrs de Winter return from their self-imposed exile - and Maxim does have a reason to seek anonymity, after all - to start a new life in England. It's appropriate that the past should still haunt these two characters - and that the second Mrs de Winter should look at her husband and recall that he is a murderer - but this book is little more than a rehash of the original. Hill's style is a pale imitation of du Maurier's, bravely employing the same first person narrative without a sense of the character, and throwing in quaint words like 'quite' every now and again to try and capture Mrs de Winter's voice, but this time around, there is no story to tell. And surely after ten years, the narrator and her husband should have grown? Maxim is feeble, pottering around in a state of self-induced dementia, and although his wife professes to be older and wiser, there is little evidence; she is merely a buffer between Maxim and the past, absorbing all the old memories and unpleasant truths left over from Manderley. The reappearance of two old enemies is also contrived and pointless - why does Mrs de Winter put up with them? What do they achieve? Apart from some nostalgic and evocative descriptions of the English countryside, 'Mrs de Winter' is a forgettable sequel to the original.
Review by SallyApollon
16/06/2015
Mrs de WinterBy Susan HillSally ApollonOverall Score: 6.5 out of 10This book was a fairly easy read, I enjoyed the suspense, the foreboding sense that SOMETHING bad was going to happen…One of the best features of the book, to me, was the author's ability to create the sense of a place, the smells & sights, the little details that shape the memories & sharpen the senses, becoming forever associated with a particular time and place. Having traveled around Europe myself, including many of the places they visited, the French Riviera, Paris, Venice, Italy and having that same homesickness for England I could relate very acutely to the feeling described in the opening of the novel as she comes home to England. The way the night air is described with poetry, I found very satisfying.Having said that I found myself to be frequently frustrated by the heroine's timidity or hesitance. To be fair, in context of the fact that her husband was a murderer and they lived in fear of being "discovered", also the fact that he had "rescued" her from a life of poverty (or servitude), it did have appropriate meaning. She was indebted to him on the one hand and afraid of him on the other. But it was frustrating to me, as I could not have kept my mouth shut to that extent that long. Also, while she outwardly kept quiet, to the reader she seemed like she was continually complaining. Most irritating to me was her inability to just enjoy her time abroad, as they traveled in luxury, I was so jealous (!) and all she seemed to do was whine & obsess about the past. Also, the terrible things that happened to them seemed to be blown out of all proportion to me. Possibly this was the case because they lived their life in a vacuum, with little interaction with others & almost total dependence on each other. The wreath, the visits from Mrs Danvers and Favell; I became increasingly exasperated with the way Mrs de Winter and ultimately even Maxim, dealt with these events—without setting boundaries or even trying to stand up to them and their hollow threats. But then, I suppose at the end of the day Maxim and the second Mrs de Winter, (whatever was her first name?) knew the threats to have basis in fact and did not feel able to fight them. I did find it hard to be sympathetic to Mrs de Winter, in the end. She did know all along of Maxim's guilt and didn't do much to defend him, when it mattered.Interestingly, I really liked Beatrice (even though it was only in retrospect) and Bunty Butterly, I though there was a real authenticity and warmth to those characters and Giles' grief was very astutely depicted. The author made good use of this to demonstrate how cut off from reality (& his own feelings), Maxim was. I didn't have a very good recollection of "Rebecca" having read it so long ago, but I do have a couple of unresolved questions that I suppose relate to the original plot more than this book. Why did Maxim kill his first wife anyway? Was is more to do with him or with her—was it a jealous rage relating to Favell? And why did he marry his second wife anyway? She clearly thought she was "second best" and he didn't do much (except on her birthday) to prevent her from feeling this way. I did find her fantasies of sons to be quite poignant, but again, I was frustrated by her relative inaction (could you please tell your husband?!) other than her visit to the doctor. I did very much enjoy her description of a hot summer's day in London—now I KNOW what that's like!Finally, I found that the ending came all in a rush…I really wasn't expecting an ending that bad, sad but I can't say I was entirely sympathetic.
Review by shanaqui
16/06/2015
I never really expected to like Rebecca very much -- and wasn't <I>overwhelmed</I> -- and I'm not sure why I picked up Mrs de Winter, except that it was there and I was bored. It starts quite sluggishly, and never really picked up for me.
Review by meacoleman
16/06/2015
Susan Hill does a good job of mimicking Daphne du Maurier's writing style...but that's about it. Ms. du Maurier was a master at not wasting words and developing a really tight plot. I've read about halfway through Hill's sequel, and I'm still waiting for something to happen! So far, she's used lots of words to describe how traumatized and unhappy Mrs. de Winter is.