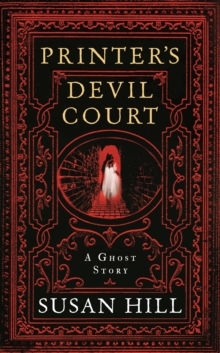 Printer's Devil Court
Hardback
Description
Ideally spooky Halloween reading... A chilling ghost story by the author of The Woman in Black. One murky November evening after a satisfying meal in their Fleet Street lodgings, a conversation between four medical students takes a curious turn and Hugh is initiated into a dark secret.
In the cellar of their narrow lodgings in Printer's Devil Court and a little used mortuary in a subterranean annex of the hospital, they have begun to interfere with death itself, in shadowy experiments beyond the realms of medical ethics.
They call on Hugh to witness an event both extraordinary and terrifying. Years later, Hugh has occasion to return to his student digs and the familiar surroundings resurrect peculiar and unpleasant memories of these unnatural events, the true horror of which only slowly becomes apparent.
Information
Format: Hardback
Pages: 112 pages, 10 B&W
Publisher: Profile Books Ltd
Publication Date: 25/09/2014
Category: Horror & ghost stories
ISBN: 9781781253656
Free Home Delivery
on all orders
Pick up orders
from local bookshops
Reviews
Showing 1 - 3 of 3 reviews.
Review by cappybear
23/09/2015
An atmospheric, tale in the best tradition of M.R. James and Sir Arthur Conan Doyle that maintains an aura of unease and doesn't outstay its welcome. One minor quibble is that the illustrations seem irrelevant.
Review by imyril
16/06/2015
Very disappointing. I'm a fan of Susan Hill's works and have enjoyed the other ghost novellae, but PDC felt short, disjointed and unsatisfying. Worse, this edition (Profile hardback) was littered with errors - name changes within a paragraph (Hugh's sister Clara became Sarah), missing punctuation obscuring flow and meaning, and a bizarrely meaningful reference to a ginger cat that I couldn't recall any previous mention of. Even the About the Author had grammatical errors in it. Not good enough. The whole thing felt rushed out for profit rather than having received care and attention at any point in the process.
Review by passion4reading
16/06/2015
This short novella describes two main events in the life of the late Dr Meredith: one in his youth, when he witnessed an experiment to bring the dead back to life, and one in late middle age, when he revisited the locations of his youth, as well as a postscript written in the third person.I have to say that this is not one of Susan Hill's better works: the illustrations bear no relation to the events described and simply appear to add bulk to the story; there are certain sections that to me seemed to contradict each other or simply didn't make sense. I found the plot oddly lacking in suspense and tension, and the only memorable part were the eerie descriptions of the empty hospital corridors and basements at the dead of night, which I could easily relate to, having worked night shifts in hospitals during my years as a nurse. Dr Meredith doesn't come across as a very engaging character, and my empathy clearly lay with the young woman, whom the reader only encounters very briefly.One for completists only, I think.
Also in the The Susan Hill Collection series | View all