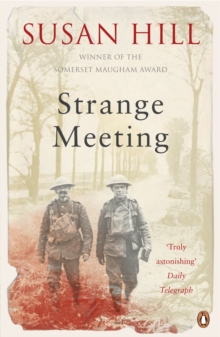 Strange Meeting
Paperback
Description
Susan Hill's classic novel Strange Meeting tells of the power of love amidst atrocities.'He was afraid to go to sleep.
For three weeks, he had been afraid of going to sleep . . .'Young officer John Hilliard returns to his battalion in France following a period of sick leave in England.
Despite having trouble adjusting to all the new faces, the stiff and reserved Hilliard forms a friendship with David Barton, an open and cheerful new recruit who has still to be bloodied in battle.
As the pair approach the front line, to the proximity of death and destruction, their strange friendship deepens.
But each knows that soon they will be separated . . .'A remarkable feat of imaginative and descriptive writing' The Times'The feeling of men under appalling stress at a particular moment in history is communicated with almost uncanny power' Sunday Times'Truly Astonishing' Daily Telegraph
Information
Format: Paperback
Pages: 192 pages
Publisher: Penguin Books Ltd
Publication Date: 25/10/1973
ISBN: 9780140036954
Free Home Delivery
on all orders
Pick up orders
from local bookshops
Reviews
Showing 1 - 4 of 4 reviews.
Review by minxy_ukusa
16/06/2015
This book is a really good read. I first read this for GCSE's but have read it many times since. It brings home the horrors of world war one and hints at homosexuality in the military. Prepare to be left feeling sad.
Review by ponsonby
16/06/2015
I had never read a book by Susan Hill before and read this one only because of its subject matter. This is a beautifully composed and written book about the close friendship between two young men in the British Army in the earlier stages of World war I. Its structure is quite simple - one of them returns to the war after a minor injury, meets the other on the slow progress up the line towards the front and there they meet their (differing) fates. The prose is quite spare but beautifully descriptive, and athough almost totally about men (there are just a few tangential female characters) the female author has captured beautifully and realistically, it seems to me, the relationship which grows between a very reserved man and a very open one, at a time of great stress. The book is not very long; it is decidedly anti-war without being stridently so.
Review by Ant.Harrison
16/06/2015
Beautifully written story of two men during World War I. Hill explores the sense of bewilderment, futility, despair and meaninglessness in a story that while firmly rooted in the conflict manages to be much more than just a war story. It's a fairly short novel, but somehow manages to say so much more than books that are eight times it's length (such as Birdsong). One of the most moving accounts of the war I have ever read, and I can honestly say that I experienced my own sense of loss once I came to the end. <br/><br/>Fabulous trip down memory lane regarding some iconic (as well as some less well known) children's television series. Packed full of interesting details for enthusiasts and casual readers alike, go back to the days when British television companies took children's drama seriously, spending time crafting a quality product. <br/><br/>I loved this book.<br/><br/>© Koplowitz 2009
Review by rainpebble
16/06/2015
Strange Meeting by Susan Hill; (5*)I had to share this poem as it so touched my heart.Strange Meeting~ Wilfred Owen"It seemed that out of battle I escapedDown some profound dull tunnel, long since scoopedThrough granites which titanic wars had groined.Yet also there encumbered sleepers groaned,Too fast in thought or death to be bestirred.Then, as I probed them, one sprang up, and staredWith piteous recognition in fixed eyes,Lifting distressful hands, as if to bless.And by his smile, I knew that sullen hall,—By his dead smile I knew we stood in Hell.With a thousand fears that vision's face was grained;Yet no blood reached there from the upper ground,And no guns thumped, or down the flues made moan."Strange friend," I said, "here is no cause to mourn.""None," said that other, "save the undone years,The hopelessness. Whatever hope is yours,Was my life also; I went hunting wildAfter the wildest beauty in the world,Which lies not calm in eyes, or braided hair,But mocks the steady running of the hour,And if it grieves, grieves richlier than here.For by my glee might many men have laughed,And of my weeping something had been left,Which must die now. I mean the truth untold,The pity of war, the pity war distilled.Now men will go content with what we spoiled.Or, discontent, boil bloody, and be spilled.They will be swift with swiftness of the tigress.None will break ranks, though nations trek from progress.Courage was mine, and I had mystery;Wisdom was mine, and I had mastery:To miss the march of this retreating worldInto vain citadels that are not walled.Then, when much blood had clogged their chariot-wheels,I would go up and wash them from sweet wells,Even with truths that lie too deep for taint.I would have poured my spirit without stintBut not through wounds; not on the cess of war.Foreheads of men have bled where no wounds were."I am the enemy you killed, my friend.I knew you in this dark: for so you frownedYesterday through me as you jabbed and killed.I parried; but my hands were loath and cold.Let us sleep now. . . .""__________________________________________________Susan Hill's writing is so pared down and stark that the reader feels, sees and understands what she is saying. I love how this woman writes. And I was there with these two unlikely soldier friends as Hill told their story.I was there as these young men slept in the trenches at the front line, as they attempted and were unable to sleep when they went home on leave or due to an injury. I could smell and taste the metal residue they felt in their mouths. I saw the beauty of the orchard where they walked and talked and felt with them the ruin of this once special place when a German plane crashed into the orchard and the pilot was killed.It felt physically painful when these young soldiers were sent out on reconnaissance knowing full well that it would be fortunate if any were to return. Their leader told his CO that he could and would not send them out to be shot before they could even attempt to take the hill that the Army wanted to take back from the Germans. The Germans were at the top of the hill and could easily see the Allied soldiers as they attempted to cross the ground to the hill and hundreds/thousands were mowed down with each attempt. This leader was removed from his position and another was posted who WAS willing to send them to their death regularly.The things these soldiers endured were horrific and Hill has the ability to place the reader right there with them.Soldiers Hilliard and Barton were different one from the other but they 'roomed'together in the trenches and became very good friends & like family with one another. Hilliard received packages from home filled with lovely fruits and sweets which he shared with Barton who in turn received loving letters from his parents and all of his siblings which he shared with Hilliard. Soon Hilliard was writing and receiving letters from Barton's family as well. The two became very, very close one to the other.This story is so into the heads of these two young soldiers as they serve their country. It is not only interesting and enlightening but I found it to be very emotional for me as I was reading it. The fact that I had a brother in Nam who led night reconnaissance weekly and was horribly injured by shrapnel, who fell into a bamboo pit and almost lost his eye, was in hand to hand combat with some of the Viet Cong, I am sure colored my vision of Strange Meeting. But I very highly recommend this book on the Great War.