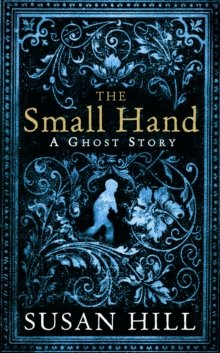 Description
Returning home from a visit to a client late one summer's evening, antiquarian bookseller Adam Snow takes a wrong turning and stumbles across the derelict old White House.
Compelled by curiosity, he approaches the door, and, standing before the entrance feels the unmistakable sensation of a small hand creeping into his own, 'as if a child had taken hold of it'.
Intrigued by the encounter, he determines to learn more, and discovers that the owner's grandson had drowned tragically many years before.
At first unperturbed by the odd experience, Snow begins to be plagued by haunting dreams, panic attacks, and more frequent visits from the small hand which become increasingly threatening and sinister ...
Information
Format: Hardback
Pages: 176 pages
Publisher: Profile Books Ltd
Publication Date: 02/09/2010
Category: Horror & ghost stories
ISBN: 9781846682360
Other Formats
Paperback from £6.19
EPUB from £2.39
Free Home Delivery
on all orders
Pick up orders
from local bookshops
Reviews
Showing 1 - 5 of 22 reviews.
Previous | Next
Review by teresa1953
16/06/2015
This is a charming little book, well composed and touching. Susan Hill is a master at building the tension and this was very evident here.I do agree, in some ways, with another reviewer who thought this could be the lead in a book of related short stories, but I am not that keen on short story books and I would probably never have read it in that format. It was certainly engaging and I read it in a couple of hours.Everything within the book was well related. The central character Adam Snow is an antequarian book dealer and so deals with the past every day. Stumbling upon an old and derelict house, he has his first encounter with the child ghost. The chance of a first folio of Shakespeare's work sends him to a French monastery on behalf of a wealthy client... and again they are living under ancient and frugal doctrines. He is certain that the small boy is still there with him. Eventually, he comes to understand that the small hand which he feels holding his own is a ghost from the past and linked to him personally. I did see the end coming, but it was still very tragic and moving. This is a book to read snuggled under the duvet.....it all seems more real that way!
Review by Amsa1959
16/06/2015
An old fashioned ghost story without splatter. Nice and cosy and a good read.
Review by eleanor_eader
16/06/2015
I loved <i>The Woman in Black</i>, my first experience of this author, let me state that up front. Susan Hill writes marvellous tension, just as nicely handled in <i>The Small Hand</i> as her earlier novel, which I'll get to in a minute, but in comparison this was a bit of a let down; it's by no means badly told, but neither is it as good as it could have been. Where <i>The Woman in Black</i> was a complete story centred around a haunting, <i>The Small Hand</i> is a haunting without much content. I'm not sure why, but the principal character, antiquarian book dealer Alex Snow, doesn't have a particularly convincing voice, and I felt moderately interested, but by no means involved, in his aimless journey through his own plot. I felt a more lively interest in his book related searches, than his ghost related ones. This would have felt more legitimate as the grand opening number in a short story collection; it wasn't quite suitable, somehow, for publishing in this - admittedly very nice - small hardcover edition on its own. It might have felt better paced, too, if it had been edited down to short-story length, or even if it had been brought closer to novel-length by foreshadowing the back-story rather than introducing it in the last third of the book. Back to the positives; most notably, the tension. It's something of a gift when an author can produce a tremor in a reader who hasn't warmed to the narrator, or who can make the reader feel absolute relief when the character reaches the safety of a monastery, and then strip it away again just as quickly. Though nowhere near as chill-inducing as <i>The Woman in Black</i>, <i>The Small Hand</i> certainly has its moments. The other reason to read Hill is simply for her descriptive writing; wherever her character is, the reader is too… some authors sketch a landscape or scene, or give a few vague pointers and let the reader fill in the rest; Hill picks out small, exquisite details as landmarks in a larger scene and lingers on them for a moment, letting the tension simmer in the background while the reader wonders why a beautifully described garden is making them uncomfortable.In conclusion, I wouldn't necessarily recommend this volume, but I would still recommend the story to fans of Hill's if it was published in a collection.
Review by gaskella
16/06/2015
Susan Hill is justly renowned for her ghost stories – her best-known one is The Woman in Black which is both chilling and a darned good read. The Small Hand is her latest, and I thoroughly enjoyed it too.It starts off simply. Adam Snow, an antiquarian bookseller is on his way home from meeting a client when he gets lost up winding country roads. Looking for somewhere to get directions he finds an old overgrown garden with a rambling and rather closed-up white house. Just when he thinks he's totally alone, he feels a small hand take his – but there's no-one there. Adam puts it down to an overactive imagination, but over the following weeks he starts to get slightly paranoid and he has what he believes is a full-on panic attack. He goes on a book-hunting trip abroad and he feels the hand again – but this time it is pulling him towards a precipice, and from hereon in things start to get dangerously spookier.This short novel has only 167 small pages and only needs one sitting – indeed taking a break in the middle could deflate the tension. Hill has great skill in crafting books where 'less is more' and not a word is wasted. Adam narrates his own story, and this really involves the reader as we share in his experiences; him being a bookseller was an added bonus for me too. After his initial encounter we're lulled into a false sense of security until events take a different turn; the pace picks up and we're pulled along towards the shocking conclusion.
Review by adrianburke
16/06/2015
I read this book at two goes: one session last night and then finished it off this morning while the soup was cooking. I've had a bout of sinusitis and been reading a lot. Not sure what to say about this book. Obviously you're tempted to compare it with The woman in black. It is a slighter book, physically small. It feels old-fashioned really and mentions of the internet and so on seem anomalous, an intrusion. Read at one go, it works. The link between the brothers, the older (guilty?) partner picking up the fatal hand from his brother. In this sense, it is reminiscent of the earlier ghost story where the past intrudes into the present. I think ghost stories are pretty impossible things to write as well as read and therefore this one succeeds. But probably only because it has been sealed off from the present world really - can you have a modern ghost story at all, I wonder?
Also in the The Susan Hill Collection series | View all