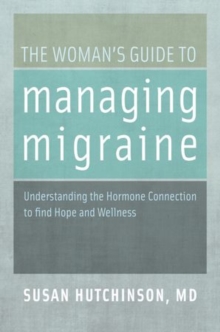 The Woman's Guide to Managing Migraine : Understanding the Hormone Connection to find Hope and Wellness
Paperback / softback
Description
Hormones and migraine are intimately connected. Ten million women in the US suffer from migraine associated with hormones - but they may not know it.
Migraines that occur right before and right after the menstrual period can be more frequent and last longer than migraines that occur in other stages of the menstrual cycle. Often they are more severe and more difficult to treat. Many women aren't sure if the headaches they suffer from are migraine, tension, cluster, "period headaches," or part of their premenstrual syndrome.
Recently, the medical community has produced exciting new advances in the diagnosis and treatment of headache, but many of these advances are known only to a handful of sufferers.
This concise and practical handbook equips female headache sufferers with all the tools they need, in conjunction with their healthcare providers, to properly diagnose types of headache and develop the best possible treatment plans.
Headache specialist, family practice physician, and fellow migraine sufferer Dr. Hutchinson explores common associated conditions, hormonal therapy, preventive strategies, and treatment options ranging from the most promising new drugs to the most effectivecomplementary and alternative therapies.
She addresses common questions such as how to plan for pregnancy and how to manage family and work life with ongoing migraine. This book empowers migraine sufferers to take charge of their treatment and find the path to living well.
Information
Format: Paperback / softback
Pages: 240 pages
Publisher: Oxford University Press Inc
Publication Date: 01/12/2013
Category: Women's health
ISBN: 9780199744800
Free Home Delivery
on all orders
Pick up orders
from local bookshops