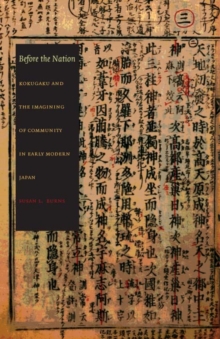 Before the Nation : Kokugaku and the Imagining of Community in Early Modern Japan
Hardback
Description
Exploring the emergence and evolution of theories of nationhood that continue to be evoked in present-day Japan, Susan L.
Burns provides a close examination of the late-eighteenth-century intellectual movement kokugaku, which means "the study of our country." Departing from earlier studies of kokugaku that focused on intellectuals whose work has been valorized by modern scholars, Burns seeks to recover the multiple ways "Japan" as social and cultural identity began to be imagined before modernity.Central to Burns's analysis is Motoori Norinaga's Kojikiden, arguably the most important intellectual work of Japan's early modern period.
Burns situates the Kojikiden as one in a series of attempts to analyze and interpret the mythohistories dating from the early eighth century, the Kojiki and Nihon shoki. Norinaga saw these texts as keys to an original, authentic, and idyllic Japan that existed before being tainted by "flawed" foreign influences, notably Confucianism and Buddhism.
Hailed in the nineteenth century as the begetter of a new national consciousness, Norinaga's Kojikiden was later condemned by some as a source of Japan's twentieth-century descent into militarism, war, and defeat.
Burns looks in depth at three kokugaku writers-Ueda Akinari, Fujitani Mitsue, and Tachibana Moribe-who contested Norinaga's interpretations and produced competing readings of the mythohistories that offered new theories of community as the basis for Japanese social and cultural identity.
Though relegated to the footnotes by a later generation of scholars, these writers were quite influential in their day, and by recovering their arguments, Burns reveals kokugaku as a complex debate-involving history, language, and subjectivity-with repercussions extending well into the modern era.
Information
Format: Hardback
Pages: 296 pages
Publisher: Duke University Press
Publication Date: 02/12/2003
Category: Cultural studies
ISBN: 9780822331834
Other Formats
Paperback / softback from £17.59
Free Home Delivery
on all orders
Pick up orders
from local bookshops
Also by Susan L. Burns