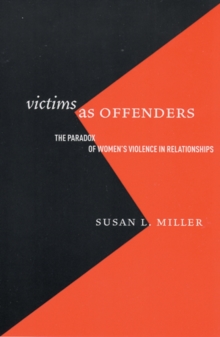 Victims as Offenders : The Paradox of Women's Violence in Relationships
Paperback / softback
Description
Arrests of women for assault increased more than 40 per cent over the past decade, while male arrests for this offense have fallen by about one per cent.
Some studies report that for the first time ever the rate of reported intimate partner abuse among men and women is nearly equal.
Susan L. Miller's timely book explores the important questions raised by these startling statistics.
Are women finally closing the gender gap on violence? Or does this phenomenon reflect a backlash shaped by men who batter?
How do abusive men use the criminal justice system to increase control over their wives?
Do police, courts, and treatment providers support aggressive arrest policies for women?
Are these women ""victims"" or ""offenders""? In answering these questions, Miller draws on extensive data from a study of police behavior in the field, interviews with criminal justice professionals and social service providers, and participant observation of female offender programs.
She offers a critical analysis of the theoretical assumptions framing the study of violence, and provides insight into the often contradictory implications of the mandatory and pro-arrest policies enacted in the 1980s and 1990s.
Miller argues that these enforcement strategies, designed to protect women, have often actually victimized women in different ways.
Without sensationalizing, Miller unveils a reality that looks very different from what current statistics on domestic violence imply.
This compelling account is essential reading for scholars and professionals working in the fields of criminal justice, sociology, women's studies, and social work.
Information
Format: Paperback / softback
Pages: 184 pages
Publisher: Rutgers University Press
Publication Date: 31/10/2005
Category: Domestic violence
ISBN: 9780813536712
Also by Susan L. Miller