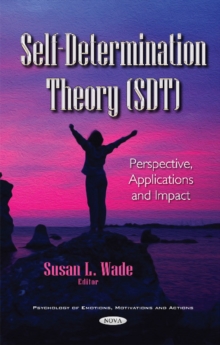 Self-Determination Theory (SDT) : Perspective, Applications & Impact
Hardback
Description
Self-Determination Theory (SDT) is one of the most widely studied perspectives of human motivation.
It has garnered the attention of prominent scholars and applied practitioners around the globe from a variety of disciplines such as business, healthcare, education, and sports.
This book provides new research in the study of SDT.
Chapter One provides a self-determination theory perspective on gender differences in pro-environmental behaviors.
Chapter Two reviews a small body of literature regarding the study of college student athletes from a SDT perspective.
Chapter Three explores relations between teaching qualifications and feelings of autonomy, competence, and relatedness towards medical teaching.
Chapter Four uses the motivational typology in self-determination theory to explore the egoistic side of public service motivation.
Chapter Five provides a historical overview of incentives and Operant Theory; explains how SDT developed in part as a reaction to the Operant paradigm of the mid-20th century; identifies nine faulty assumptions that led SDT astray; and introduces a relatively new construct, incentive salience, as a way to reconcile the observed compatibility between incentives and SDT.
Chapter Six elucidates ethnic differences on depressive symptoms by examining the satisfaction of all three basic psychological needs as the underlying mechanism/mediator between ethnicity and depressive symptoms.
Chapter Seven reviews the impact of significant people on students' motivation to learn English in Vietnamese higher education.
Information
Format: Hardback
Pages: 160 pages
Publisher: Nova Science Publishers Inc
Publication Date: 01/01/2017
Category: Psychology: emotions
ISBN: 9781536106756
Free Home Delivery
on all orders
Pick up orders
from local bookshops