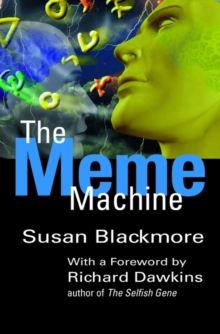 The Meme Machine
Paperback
Description
Humans are extraordinary creatures, with the unique ability among animals to imitate and so copy from one another ideas, habits, skills, behaviours, inventions, songs, and stories.
These are all memes, a term first coined by Richard Dawkins in 1976 in his book The Selfish Gene.
Memes, like genes, are replicators, and this enthralling book is an investigation of whether this link between genes and memes can lead to important discoveries about the nature of the inner self.
Confronting the deepest questions about our inner selves, with all our emotions, memories, beliefs, and decisions, Susan Blackmore makes a compelling case for the theory that the inner self is merely an illusion created by the memes for the sake of replication.
Free Home Delivery
on all orders
Pick up orders
from local bookshops
Reviews
Showing 1 - 5 of 5 reviews.
Review by slothman
16/06/2015
An interesting look at the behavior of memes: how they replicate and propagate and make use of their human hosts.Also amusing in that it's the only book I've ever read where there's a clear authorial bias toward Zen Buddhism: Blackmore is obviously happy to conclude that memetics shows that identity is indeed an illusion.
Review by clyde7
16/06/2015
What is "The Selfish Gene" to genes is "The Meme Machine" to memes. Although I buy the author's view, she fails at giving compelling examples and arguments to support her hypothesis. Several times, she has admits that she did not conduct the tests to support her hypothesis. A skeptical reader may not be convinced by the author's view.Read "The Selfish Gene" before reading this book.
Review by librarythingaliba
16/06/2015
This book was worth the read. While in many ways it struggled with the burden of proof and lack of research into the field of memes, and as a result came across as a pseudo-scientific approach at debunking all sorts of current thinking, it is put together well and really walks the reader to the rather shocking conclusion.
Review by gmmoney
16/06/2015
I have to admit that when I first started reading this book I was taken aback, but I stuck with it and am ultimately impressed with the case that Blackmore painstakingly makes. I would highly recommend this book, especially if you have an enduring interest in human culture and religion. Even if you don't agree with her conclusions, I think her arguments are worth considering.
Review by Cheryl_in_CC_NV
16/06/2015
The one that started it all for me. I wasn't a big fan of non-fiction before reading this, but afterwards I tried to grapple evolutionary biology, sociobiology, psychology.... I'm so curious about this stuff now; I wish I could go back to school and get guidance from a professor.