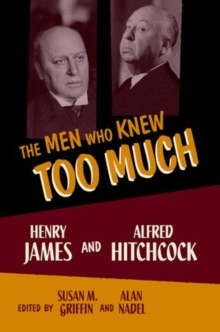 The Men Who Knew Too Much : Henry James and Alfred Hitchcock
Paperback / softback
Description
Henry James and Alfred Hitchcock knew too much. Self-imposed exiles fully in the know, they approached American and European society as inside-outsiders, a position that afforded them a kind of double vision.
Masters of their arts, manipulators of their audiences, prescient and pathbreaking in their techniques, these demanding and meticulous artists fiercely defended authorial and directorial control.
Their fictions and films are obsessed with knowledge and itspowers: who knows what?
What is there to know?The Men Who Knew Too Much innovatively pairs these two greats, showing them to be at once classic and contemporary.
Over a dozen major scholars and critics take up works by James and Hitchcock, in paired sets, to explore the often surprising ways that reading James helps us watch Hitchcock and what watching Hitchcock tells us about reading James.
A wide-range of approaches offer fresh insights about spectatorship, narrative structure, and cinematic representation, as well as therelationship between technology and art, the powers of silence, sensory-and sensational-experiences, the impact of cognition, and the uncertainty of interpretation.
The essays explore the avowal and disavowal of familial bonds, as well as questions of Victorian convention, female agency, and male anxiety. And theyfruitfully engage issues related to patriarchy, colonialism, national, transnational, and global identities.
The capacious collection, with its brilliant insights and intellectual surprises, is equally compelling in its range and cogency for James readers and film theorists, for Hitchcock fans and James scholars.
Information
Format: Paperback / softback
Pages: 288 pages, 40 illustrations
Publisher: Oxford University Press Inc
Publication Date: 23/02/2012
Category: Individual film directors, film-makers
ISBN: 9780199764433
Free Home Delivery
on all orders
Pick up orders
from local bookshops