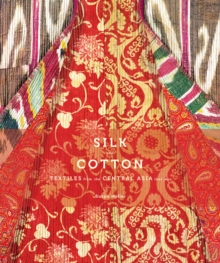 Description
The traditional textiles of Central Asia are an unknown treasure, now revealed in this beautiful and authoritative book.
Straddling the legendary Silk Road, this vast region stretches from the Caspian Sea in the west to the Gobi Desert in the east and is home to hundreds of tribes.
Whether nomadic or sedentary, its peoples created textiles that related to every aspect of their way of life, from ceremonial objects marking rites of passage to everyday garments to practical items for the home.
There were suzanis for the marriage bed; niche covers; prayer mats; patchwork bedding quilts; camel trappings for Turkmen bridal processions; bags for tea, scissors and mirrors; lovingly embroidered children's hats and bibs and robes of every colour and pattern.
Author Susan Meller has spent years assembling the extraordinary collection of 590 textiles illustrated in this book. She documents their history, use and meaning through equally rare archival photographs and deep research in the fascinating body of travellers' reports left by explorers, adventurers, geologists, ethnographers, missionaries, clergymen, journalists, merchants, diplomats, counter-revolutionaries and spies of many nations over the centuries.
Her book will be a revelation to designers, collectors and Asian travelers and is destined to become a classic.
Information
Format: Hardback
Pages: 335 pages
Publisher: Abrams
Publication Date: 01/11/2013
Category: Textile design & theory
ISBN: 9781419706745
Free Home Delivery
on all orders
Pick up orders
from local bookshops