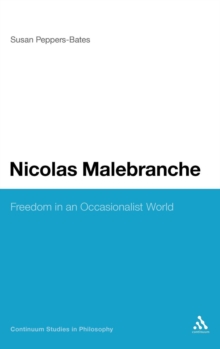 Nicolas Malebranche : Freedom in an Occasionalist World
Hardback
Description
This is an important new study of a central figure in Modern Philosophy focusing on the vital issues of human freedom and moral responsibility.
Nicolas Malebranche (1638-1715) was one of the most notorious and pious of Rene Descartes' philosophical followers.
A member of The Oratory, a Roman Catholic order founded in 1611 to increase devotion to the Church and St.
Augustine, Malebranche brought together his Cartesianism and his Augustinianism in a rigorous theological-philosophical system.
Malebranche's occasionalist metaphysics asserts that God alone possesses true causal power.
He asserts that human understanding is totally passive and relies on God for both sensory and intellectual perceptions.
Critics have wondered what exactly his system leaves for humans to do.
Yet leaving a space for true human intellectual and moral freedom is something Malebranche clearly intended.
This book offers a detailed evaluation of Malebranche's efforts to provide a plausible account of human intellectual and moral agency in the context of his commitment to an infinitely perfect being possessing all causal power. Peppers-Bates suggests that Malebranche might offer a model of agent-willing useful for contemporary theorists. "Continuum Studies in Philosophy" presents cutting-edge scholarship in all the major areas of research and study.
The wholly original arguments, perspectives and research findings in titles in this series make it an important and stimulating resource for students and academics from a range of disciplines across the humanities and social sciences.
Other Formats
Paperback from £27.55
PDF from £29.74
Free Home Delivery
on all orders
Pick up orders
from local bookshops
Also by Susan Peppers-Bates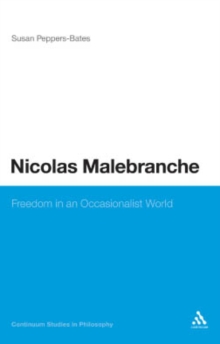 Also in the Continuum Studies in Philosophy series | View all