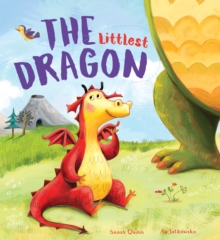 Storytime: The Littlest Dragon
Hardback
Part of the Storytime series
Description
The Littlest Dragon can't run fast, is always last in the flying races and, worst of all, can't breathe fire.
Being so little makes him sad, until Little Bird turns up and shows him that with a little help from a friend, anything is possible.
When winter arrives and all the other dragons catch a cold and their fires go out, only Little Dragon can keep them warm.
Will he be able to breathe fire after all? This lovely book about being small and still finding a fire inside you is sure to appeal to families everywhere. And its message of friendship will resonate for anyone feeling different and alone.
Free Home Delivery
on all orders
Pick up orders
from local bookshops