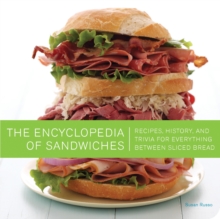 The Encyclopedia Of Sandwiches
Paperback
Description
What's in a Monte Cristo? Who eats Spaghetti Sandwiches? And what makes a sandwich a sandwich? Find out in the entertaining and illuminating Encyclopedia of Sandwiches, a handy pocket reference to the best food since, well, sliced bread.
As Alan Davidson notes in the Oxford Companion to Food, Sandwiches take so many forms in the modern world that a catalog would be a book.
Finally, here is that book!The small but mighty "Encyclopedia of Sandwiches" catalogs every sandwich imaginable, providing compelling definitions, authentic recipes, and full-color photographs diagramming each sandwich's glorious construction-not to mention fascinating regional & historical trivia: the Croque-Monsieur, loosely translated as Mister Crunch or Mister Crisp, was invented by accident - French workers left Ham and Cheese sandwiches in lunch tins near hot radiators, melting into gooey toasted deliciousness by lunchtime; crispy fried white bread layered with creamy peanut butter, bananas, and bacon is a sandwich fit for a king - and the King ate so many that The Elvis was named after him; and, quick how-to instructions for superior sandwich construction that will ensure that every Dagwood is properly overstuffed, every Lobster Roll is toasted to buttery perfection, and every Sloppy Joe is deliciously gloppy! "The Encyclopedia of Sandwiches" is a must-have for sandwich aficionados everywhere.
Information
Format: Paperback
Pages: 320 pages, 108 Plus Full Colour Photos
Publisher: Quirk Books
Publication Date: 01/04/2010
Category: Quick & easy cooking
ISBN: 9781594744389
Free Home Delivery
on all orders
Pick up orders
from local bookshops