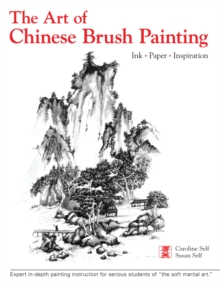 The Art of Chinese Brush Painting : Ink * Paper * Inspiration
Hardback
Description
In this introduction to traditional black-and-white Chinese ink painting, readers will learn about its historical development, the influence of philosophy on the art, and the traditional standards of painting, including the quality and variety of 'artist's treasures' - the tools and accessories used in the practice. Because the art of Chinese ink painting sprang from the practice of calligraphy, readers will learn to control the brush through calligraphy and brush-stroke exercises.
With a firm grasp of the historical origins and having basic materials and skills in place, readers will learn to paint some of the classic subjects of ink painting: Bamboo, Chrysanthemum, Pine, Orchid, Plum Blossom.
The meaning of each subject within Chinese culture is explained so that readers can appreciate the subject and become expressive in capturing the essence of it in their own paintings.
Readers will also learn to paint five popular animals of the Chinese Zodiac.
The book will encourage readers to be mindful of the characteristics of these animals and paint them energetically. The principles of composition and perspective, and the relationship between man and nature will be discussed as readers learn to paint the classic 'grand landscape', including specific techniques for the following elements: trees, mountains, waterfalls, rivers, clouds & mist.
Information
Format: Hardback
Pages: 128 pages, 35 activities; 300 color drawings, photos, and diagrams
Publisher: Tuttle Publishing
Publication Date: 10/12/2009
Category: Painting & art manuals
ISBN: 9780804839891