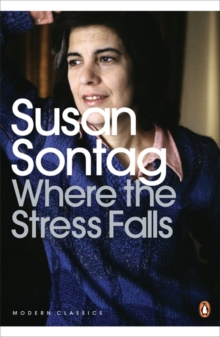 Where the Stress Falls
Paperback
Description
Where the Stress Falls is divided into three sections: the first, 'Reading', includes ardent pieces on writers from Sontag's own private canon - Machado de Assis, Barthes, W.
G. Sebald, Borges, Tsvetaeva and Elizabeth Hardwick. In the second, 'Seeing', she shares her passions for film, dance, photography, painting, opera and theatre. And in the final section, 'There and Here', Sontag explores her own commitments to the work (and activism) of conscience and to the vocation of the writer.
Information
Format: Paperback
Pages: 368 pages
Publisher: Penguin Books Ltd
Publication Date: 02/07/2009
Category: Literary essays
ISBN: 9780141190211
Free Home Delivery
on all orders
Pick up orders
from local bookshops
Reviews
Showing 1 - 1 of 1 reviews.
Review by edwinbcn
16/06/2015
Both reading and writing essays requires a broad general knowledge. Well-educated readers often profess enjoyment reading essays, although they may agree that well-written essays are hard to find. I often explain to my students that novels and short stories are a joy to read because they have been written by professional writers, who know how to write well, whereas academic essays are often written by scholars who have a deep knowledge of their subject, but may not be able to write that well.To the reader of general interest, perhaps the most enjoyable pieces of essay writing are pieces which they do not immediately think of as essays, namely reviews and articles in quality newspapers and cultural or literary magazines such as The New York Review of Books, The Times Supplement or The Spectator, to name a few. Such articles and essays are often the main stay of authors' regular income from writing.However, when such occasional pieces of writing are collected, the subsequent books are often qualitatively unbalanced, or otherwise unattractive to readers.Susan Sontag is mainly known for her essay writing, and in 2001 all her essay writing was included in the prestigious series of Penguin Modern Classics. This choice underwrites the outstanding quality of her essays.Where the stress falls is a collection of a rather broad scope including essays about the arts, about 115 pages of essays about literature, 130 pages of essays about the cinema and theatre and a remaining 100 pages about translation and theatre. The essays span a very broad range of interests.In these essays, Susan Sontag displays her broad knowledge. Sontag is an American writer with a very broad international perspective, and, as many intellectual writers her focus may sometimes be with large, mainstream authors and movements, while at other times point the spotlight on unknown writers or phenomena. As a writer, film maker and critic, Sontag herself was criticised, particularly for her involvement in a theatre project in occupied Sarajevo.Where the stress falls is divided into three parts: Reading, Seeing and There and Here. "Reading" consists of twelve essays about literature. The most surprising is perhaps Sontag's interest in the American novel The Pilgrim Hawk: A Love Story (1940) by Glenway Wescott which she describes as belonging to the treasures of twentieth-century American literature in the essay Where the stress falls (2001). Any other essayist would be laughed at and scorned for making such a pronouncement about a short novella which currently is not even included in the canon. The suggestion is that Susan Sontag thinks it will be, in the future.Incidentally, The Pilgrim Hawk: A Love Story is a novel which provides a shortcut to Sontag's own life an interests. Like Wescott Susan Sontag spent time as an expat writer in Paris, moving in an expat writers' community, though perhaps not as illustrious as that of Gertrude Stein in Wescott's day, in the 1920s. Sontag has written that her time in Paris was the most important part of her life. As this was in the late 1950s, Sontag, who took dual degrees in Literature and Philosophy from Harvard, often writes about French authors and philosophers, such as the essay about Roland Barthes.Sontag's international outlook is further emphasized by essays about Latin-American authors, such as Machado de Assis, Juan Rulfo's novella Pedro Paramo and the work of Nobel Prize winner Jorge Luis Borges. There are further essays about European writers such as Danilo Kiš and Witold Gombrowicz, while one essay is devoted to German literature, a language which Sontag reads in the original, and which therefore gives her access to minor poets and authors such as Robert Walser.Published in 2001, Where the stress falls combines essays and interests from all periods of Susan Sontag's life. From the 1970s she started writing about photography and film. Thus, in the second part, called "Seeing" this volume contains several essays devoted to the photography of Robert Mapplethorpe and a very positive contribution about the controversial German film maker Rainer Werner Fassbinder. However, there are also several fascinating essays about modern dance, theatre and the operas of Wagner, which Sontag analyzes from an entirely original point of view.The last part of Where the stress falls consists of twelve essays, relating to a theatre project which she realized and directed Siege of Sarajevo, staging a performance of Samuel Beckett's Waiting for Godot. The personal involvement and biographic descriptions, make this part of the book somewhat less interesting. It shows how high-blown intellectualism can become disconnected from reality, promoting a symbolic action, which critics rightfully pronounced as "hideously self-indulgent".Reading a book of essays probably means the reader must be satisfied with a pick-and-choose mode of reading. While some essays may be deeply loved and cherished as they discuss topics dear to the reader, other essays may be of less interest, just as in a quality newspaper, a readers may decide not to read all pieces. Perhaps, this eclectic mode of reading is still difficult to accept when it comes to books one has bought. However, just as with a reading of essays in a newspaper or magazine, there are many contributions the reader may be persuaded to sample. For such type of reading, Where the stress falls will prove to be a rich treasure trove.
Also in the Penguin Modern Classics series | View all