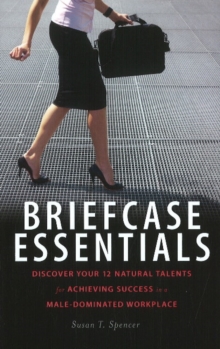 Briefcase Essentials : Discover Your 12 Natural Talents for Achieving Success in a Male-Dominated Workplace
Hardback
Description
Women will want to buy this book to learn how to deal with men in business, instead of trying to act like them.
Men and women will want to buy it to discover how women can make the most of their natural talents in the business world and keep their cool in even the most male-dominated environments -- including a locker room full of naked NFL players.
Susan T Spencer had many such experiences as the VP and acting GM of the Philadelphia Eagles, as an attorney, and as the owner of several meat processing plants.
Her one-of-a-kind background has given her a fresh perspective on women in business.
This exciting saga and energising guide roots for women to succeed and urges them to use Susan's proven approach to tackle business issues and situations by relying on their innate talents -- explained as twelve "Briefcase Essentials".
Specifically, female readers will learn: How women's ability to be flexible and adaptable in business helps them solve problems and handle workplace issues; How women's ability to engage people and put them first leads to business success; How and when a woman should stand her ground to achieve positive results and gain credibility; How women's intuition helps them make important decisions; How women's perceptive communication drives sales and helps a company grow; How "bandwagon men" help women finance their businesses and support their growth.
Susan's stories and examples are authentic and her advice for women who work in business, or own a company, or are thinking about starting a business is direct, practical, pioneering, and barrier breaking.
Free Home Delivery
on all orders
Pick up orders
from local bookshops