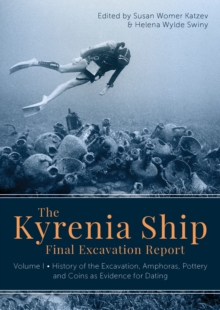 The Kyrenia Ship Final Excavation Report, Volume I : History of the Excavation, Amphoras, Pottery and Coins as Evidence for Dating
Hardback
Description
The Kyrenia ship, a Greek merchantman built around 315 BC and sunk off the north coast of Cyprus 294-291 BC, was excavated between 1967 and 1972 under the direction of Michael Katzev.
The importance of this ship lies in the extraordinary state of preservation of the hull, allowing great insights into ancient shipbuilding, and in the cargo it was carrying. Its hold was full of Rhodian transport amphoras and its cabin pottery was also mostly made on Rhodes, which was probably its home port. Its trade route ran between Rhodes, Cyprus, the Levant, and possibly Egypt.
This first of a planned multi-volume publication includes a detailed history of the excavation of the ship, as well as the most important objects for determining the date of its sinking.
These include the primary cargo, transport amphorae, with four different types from Rhodes; fewer examples from Samos and the Cyclades (Paros), and possibly northern Greece, Cyprus and the Levant.
The Rhodian amphora stamps date the shipwreck to between 294 and 291 BC.
The second most-helpful dating material comprises vessels and utensils (cups and saucers, cooking pots and grills, serving bowls and spoons, water jars and pitchers) used by the crew.
For most categories, four examples were found, suggesting a crew of four.
Scientific analyses show that the majority were again made in Rhodes.
Seven bronze coins were recovered, five of which were minted in the name of Alexander the Great and one in the name of Ptolemy I in Cyprus.
Together, these objects document not only the date of the sinking but also give evidence of the probable Rhodian home port and trade route of the Kyrenia ship's final voyage.
Information
Format: Hardback
Pages: 464 pages, b/w and colour + additional folder of plans
Publisher: Oxbow Books
Publication Date: 01/01/0001
Category: Archaeology
ISBN: 9781785707520