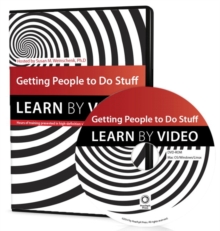 Getting People to Do Stuff : Learn by Video
DVD-ROM
Description
Whether you want your customers to buy from you, or vendors to give you a good deal, your boss to give you a raise, or your employees to take initiative, most of your work life and even your personal life involves trying to get people to do stuff.
Instead of using your usual tactics that sometimes work and sometimes don't, you can learn how to use insights from recent research in psychology and brain science to be more effective in motivating people and in getting people to do the stuff you want them to do - even getting people to want to do the stuff you want them to do. System Requirements Mac OS X 10.6, Microsoft Windows XP, or higherGHz processor or higher2 GB RAM or higher1 GB Free HD Space (does not include lesson files) Please note that this DVD can be viewed only on a computer.
It will not work in DVD-Video player software or a DVD set-top player.
Free Home Delivery
on all orders
Pick up orders
from local bookshops