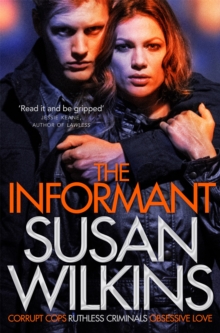 Description
Set in London and Essex, The Informant is a story of ruthless criminals, corrupt cops, obsessive love and the villainy that operates on both sides of the law.
As a drug-fuelled teenage tearaway, Kaz Phelps took the rap for her little brother Joey over a bungled armed robbery and went to jail.Six years later she's released on licence.
Clean and sober, and driven by a secret passion for her lawyer, Helen, Kaz wants to escape the violence and abuse of her Essex gangster family.Joey is a charming, calculating and cold psychopath.
He worships the ground Kaz walks on and he's desperate to get her back in the family firm.
All Kaz wants is a fresh start and to put the past behind her.When Joey murders an undercover cop, DS Nicci Armstrong is determined to put him behind bars.
What she doesn't realize is that her efforts are being sabotaged by one of their own and the Met is being challenged at the highest level.The final test for Kaz comes when her cousin, Sean, gets out of jail.
He is a vicious, old-school thug and wants to show Kaz who is boss.
Kaz may be tough enough to face down any man, but is she strong enough to turn her back on her family and go straight?
Information
Format: Paperback
Pages: 630 pages
Publisher: Pan Macmillan
Publication Date: 30/07/2014
Category: Crime & mystery
ISBN: 9781447241423
Free Home Delivery
on all orders
Pick up orders
from local bookshops
Reviews
Showing 1 - 1 of 1 reviews.
Review by atticusfinch1048
16/06/2015
The Informant – Stunning DebutThe Informant is the stunning debut crime thriller from by Susan Wilkins a former screenwriter for British TV, who has brought her experience from screenwriting to bear on this excellent thriller. This debut crime thriller hits all the cliches you can think of from mind blowing psychological crime thriller and a page turner. Susan Wikins takes you through all the twists and turns and leaves you mind blown at the end wanting more hoping you can get to the follow up as quickly as possible.Kaz Phelps has served six years and has just been released on licence after a brutal armed robbery that went wrong which included covering for her little brother Joey. Kaz is leaving prison a reformed character with a love of art and wanting to be an art student but she recognised the biggest obstacle to this new life would be her own family. At least one difference for her now is that her father Terry, is now wheelchair bound and no longer the bullying con he was when she went inside the family firm now being run by Joey, who is keen to get Kaz involved.DS Nicci Armstrong is leading the hunt to put one of London's biggest villians in prison everyone in the Met wants to see Joey Phelps in prison. Every time they get close they cannot prove anything against him, they know he has killed one police officer and there are other bodies to his name but with no evidence. Joey Phelps controls the drugs trade in Essex and is slowly taking over large parts of London, and the police are unable to find the evidence to secure a conviction. They need some help an informer but nobody is that stupid as they know they will wind up dead.Kaz's little brother Joey is a cold and very calculating psychopath who loves his big sister and wants to involve her in the family business. He knows he can trust her because not once did she grass him up even though she was under pressure from the Police. Kaz can see no wrong in Joey, that he is doing a good job and wants to go legit, she loves him and remembers how she used to try and protect him from their father.Through out the book we see a darker side to Joey Phelps a side that Kaz does not see or does not want to see. Joey has even promised to stop the violence for her so that she can be part of the 'firm' and take it ligit. We can see all the pyschological games that Joey plays to get his way but will Kaz be able to see that before it is too late? This is not your usual crime thriller where we see police procedure from beginning to end, even if we do know who the bad guys are from the start. The characters are well developed and reflect their life experiences, so Kaz Phelps' hard life is reflected as is her vulnerablity and her misguided faith in her brother. We are able to see the complex family relationships between Kaz, Joey and their family and even more so when their cousin Sean is released from prison also on licence. Throw in to the mix that the police are determined to try and get Kaz to inform against Joey, but they forget the unwritten rule of never grassing on your family even when you are going straight.The complexity of all the relationships between the Phelps' family and with all those they interact with can only end in a car crash of events. Who will be left standing at the end is one of the biggest questions, along with what will Kaz do and will she become the art student she so much desires to be.There is some serious stuff in this thriller all of which are believable especially in both the criminal and police worlds of today in London. This is a well researched well written thriller that adds up to being an absolutely stunning debut.
Also in the The Kaz Phelps Series series | View all