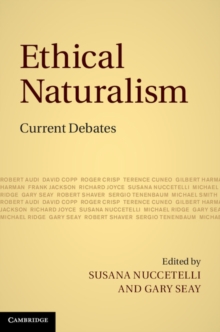 Ethical Naturalism : Current Debates
Hardback
Description
Ethical naturalism is narrowly construed as the doctrine that there are moral properties and facts, at least some of which are natural properties and facts.
Perhaps owing to its having faced, early on, intuitively forceful objections by eliminativists and non-naturalists, ethical naturalism has only recently become a central player in the debates about the status of moral properties and facts which have occupied philosophers over the last century.
It has now become a driving force in those debates, one with sufficient resources to challenge not only eliminativism, especially in its various non-cognitivist forms, but also the most sophisticated versions of non-naturalism.
This volume brings together twelve new essays which make it clear that, in light of recent developments in analytic philosophy and the social sciences, there are novel grounds for reassessing the doctrines at stake in these debates.
Information
Format: Hardback
Pages: 272 pages
Publisher: Cambridge University Press
Publication Date: 08/12/2011
Category: Ethics & moral philosophy
ISBN: 9780521192422
Free Home Delivery
on all orders
Pick up orders
from local bookshops