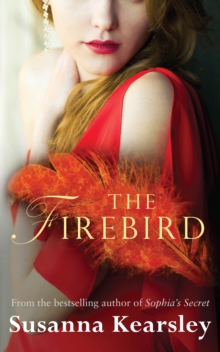 Description
Nicola Marter was born with a gift. When she touches an object, she sometimes sees images; glimpses into its past, and of those who have owned it before.
Born with this rare ability, Nicola sees it as something to keep hidden.
But when a young woman arrives at the London gallery Nicola works at, offering a wooden carving for sale and claiming it belonged to Russia's Empress Catherine, Nicola faces a dilemma.
With no proof of its past, Nicola's boss believes the carving - known as 'the Firebird' - is worthless.
But Nicola has held it, and she knows that the woman, who is in desperate need of money, is telling the truth.
Compelled to help, Nicola turns to a man she once left, and still loves: Rob McMorran, whose own psychic gifts are far greater than her own.
With Rob to help delve into the past, Nicola travels from Scotland to Belgium, and on into Russia.
There, in St Petersburg, the once-glittering capital, Nicola and Rob unearth a tale of love and sacrifice, of courage and redemption - a story which will change their lives for ever.
Information
Format: Hardback
Pages: 495 pages
Publisher: Allison & Busby
Publication Date: 01/01/2013
ISBN: 9780749012564
Other Formats
Paperback from £6.89
EPUB from £5.60
Free Home Delivery
on all orders
Pick up orders
from local bookshops
Reviews
Showing 1 - 2 of 2 reviews.
Review by CynthiaRobertson
16/06/2015
Spanning three hundred years between its two storylines, The Firebird offers up a nice twist on the typical time travel adventure. The present is told by first person narrator, Nicola, an art dealer with a gift for being able to see the history of anything she touches. She and Rob, her even more talented friend, who wants to be more than just a friend, set out on a journey of psychic sleuthing, to prove a small carved bird was actually passed down from the Empress Catherine, widow of Peter the Great.<br/><br/>The past, told in third person, is navigated by Anna, the original recipient of the firebird. We follow her from her narrow escape from Scotland, as an engaging and precocious child, surrounded by a world of political intrigue she is too young to grasp, to her young adult life in St. Petersburg. The author skillfully captures eight year old Anna's voice and thoughts, showing the character's child-like understanding of the events that swirl around her, in stark contrast to the assumed perspective of the adults, to great effect.<br/><br/>Filled with beautiful description, the style of writing is relaxed introspection and interior with a healthy disregard for 'active' writing and rules about adverbs. Kearsley has a fondness for words like darkly, warmly, thickly; all those lovely words the grammar fascists insist be deleted from drafts. And it works, creating a calm and dreamy flow of narration that perfectly fits this time transcending tale.<br/><br/>(Excerpt)<br/><br/>And yet, when they had been admitted to the neighbor's house and met the man himself, a cheerful man the same age as the colonel with a lively, smiling wife to keep him company, and Anna had been washed and settled in beneath a mound of woven blankets on a palette by the kitchen hearth she did not want to close her eyes, because she knew that if she slept and woke it would be morning, and the stay of execution would be over. <br/>(end excerpt)<br/><br/>The developing romance between Nicola and Rob, and the mystery surrounding Anna were a delight to follow. The beautifully detailed history and descriptions of St. Petersburg—where I've never been, and know nothing about—were of great interest and delivered up in palatable small bites.<br/><br/>At 526 pages, The Firebird, by Susanna Kearsley is a long, delicious read. In Kearsley I've found a new favorite, one whose body of already published work will keep me happily reading for many months.<br/><br/>I read and reviewed this book for She Reads.<br/>
Review by Lisa17
16/06/2015
I did enjoy reading this book a great deal, but I preferred its predecessor, <i>The Winter Sea</i>.The story was involving and the characters and settings definitely had substance, however I felt the pacing was slightly off - the beginning was quite exciting, but the middle started to drag and by the time I reached the last quarter of the book I just wanted it to be finished. The ending did go out with a bang though - some twists and revelations I saw coming, and some I didn't.Specifically, I liked how the author <spoiler>may have set it up so we believed that Captain Jamieson as Anna's father was the main plot twist, since although it was quite obvious (especially to those who read <i>The Winter Sea</i>), it was never confirmed until the end. But in actual fact the reader was hit by different twists that we may not have seen coming, which fits in nicely with the "seeing what you expect to see" moral.</spoiler>Having said that, <spoiler>I'm not sure all the twists made complete sense. I thought the Firebird was going to have come from Edmund O'Connor, so that was a nice surprise that it actually did come from the Empress, but I thought the problem of not being able to sell it would be resolved by the buyer in Inverness taking it, as opposed to the (surprise!) complete, signed, first edition set of James Bond novels (come on, how would Margaret not have known the value of that?!). I also thought Rob's insistence that Nicola revealed her gift (and the fact that he straight up left her when she refused) was rather unreasonable, along with the way she did choose to reveal it (very publicly) in the end.</spoiler>An engaging read, but although with all paranormal stories one must suspend disbelief, some parts of this were just a bit too unlikely for me. Worth reading for the descriptions of the settings though, and for closure on the characters in <i>The Winter Sea</i>.