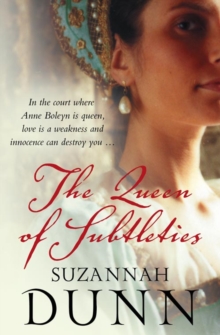 The Queen of Subtleties
Paperback
Description
A tremendously vivid, page-turning and plausible novel that depicts the rise and fall of Anne Boleyn, the most spirited, independent and courageous of Henry's queens, as viewed from both the bedrooms and the kitchens of the Tudor court.Everyone knows the story of Anne Boleyn.
Henry VIII divorced his longstanding, long-suffering, older, Spanish wife for a young, black-eyed English beauty, and, in doing so, severed England from Rome and indeed from the rest of the western world.
Then, when Henry had what he wanted, he managed a mere three years of marriage before beheading his wife for alleged adultery with several men, among them his own best friend and her own brother.This is the context for Suzannah Dunn's wonderful new novel, which is about - and told by - two women: Anne Boleyn, king's mistress and fated queen; and Lucy Cornwallis, the king's confectioner, an employee of the very highest status, who made the centrepiece of each of the feasts to mark the important occasions in Anne's ascent.
There's another link between them, though: the lovely Mark Smeaton, wunderkind musician, the innocent on whom, ultimately, Anne's downfall hinged...Suzannah Dunn has wit, a mastery of dialogue, brilliant characterization, lack of pretence, and good humour.
The Queen of Subtleties adds to that mix a wonderfully balanced, strong story and the result is sensational.
Information
Format: Paperback
Pages: 352 pages
Publisher: HarperCollins Publishers
Publication Date: 03/01/2005
ISBN: 9780007139385
Free Home Delivery
on all orders
Pick up orders
from local bookshops
Reviews
Showing 1 - 1 of 1 reviews.
Review by LadyN
16/06/2015
A disappointing read, the ultimate flaw of which is the juxtaposition of the point of view of a character about whom we know a great deal (Anne Boleyn), with that of a character who's life needs to be entirely fictionalised as history records nothing of her but her name (King's confectioner, Lucy Cornwallis). I found the Anne Boleyn chapters - supposedly an account written from Boleyn to the infant Princess Elizabeth - to be monotonous and unfulfilling. The Lucy Cornwallis chapters did nothing to add to the plot, which of course centres around Boleyn's fall from grace. I'm not sure what the author was trying to achieve.The attempted inclusion of a romantic storyline lacked direction or compulsion - a problem which applied to much of the "below stairs" thread.I have no problem with the "fiction" aspect of Historical Fiction, but Philippa Gregory does it much better.This book earns its two stars for being ok enough to finish, and that it's set in a favourite historical period of mine. I won't be reading any sequels though.