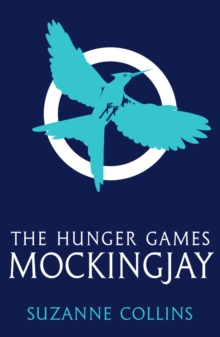 Description
The final book in the ground-breaking HUNGER GAMES trilogy.
Against all odds, Katniss Everdeen has survived the Hunger Games twice.
But now that she's made it out of the bloody arena alive, she's still not safe.
The Capitol is angry. The Capitol wants revenge. Who do they think should pay for the unrest? Katniss. And what's worse, President Snow has made it clear that no one else is safe either.
Not Katniss's family, not her friends, not the people of District 12.
Information
Format: Paperback
Pages: 448 pages
Publisher: Scholastic
Publication Date: 01/12/2011
Category: Adventure
ISBN: 9781407132105
Free Home Delivery
on all orders
Pick up orders
from local bookshops
Reviews
Showing 1 - 5 of 8 reviews.
Previous | Next
Review by Eilantha_Le_Fay
16/06/2015
I am utterly amazed. These books are so very amazingly good. I'm glad I was so caught up in the story that I postponed writing about them until I was through with the lot. Had I written after finishing the first one, I'd be saying this is the story of a brave girl called Katniss Everdeen and her struggle to save her loved ones from the claws of a dictatorial regimen called "the Capitol". With bits of romance and science-fiction. Not so far from Orwell's 1984 concept of "big brother is watching you".But the story goes beyond our Katniss and her loved ones. It's a close-up on a war in which no one really seems to be good. It portrays a war from the point of view of the people, the innocent who wish for freedom but never truly get it. I think this story stands out from others because there are no real heroes, no beautiful cause worth fighting for. Only murderers fighting for power and vengeance.Katniss goes through this as any real human being would: not without some degree of mental illness. It's heartbreaking to read on, to share her weight as people die or get broken. As she gets broken.Still, there's a happy ending. And that's why that though they are heartbreaking, these books are some of the best books I have ever read. And will read again.
Review by passion4reading
16/06/2015
A clever plot with a message, a breathless roller-coaster ride with two very strong and memorable characters, and a very moving love story: still as good the second time round as the first.
Review by UltimaJenko
16/06/2015
This was a great ending to a fantastic series of books. At the end of every chapter (such as with every chapter of the all the books) make you constantly want to read on and Suzanne Collins does this brilliantly. I felt a ton of emotions reading these books, such as, sadness, anger, confusion and more. This is a brilliant book and don't listen to all those bad reviews, because they clearly like most of those lovey dovey books where everything goes right and nothing bad happens. It puts more reality in it. Thank you so much Suzanne Collins for an amazing series of books, and I will not fail to buy the rest of your books when (or if) you bring more out. "If we burn you burn with us" 5*
Review by justine28
16/06/2015
This final book in The Hunger Games trilogy starts when our heroine Katniss has just been rescued by the rebels from the arena of the 75th Hunger Games. She's being transported to the underground city of District 13 and starts her rehabilitation and new life as the face of the open and wide-spread rebellion against the Capitol. I enjoyed the general "at war" feel in the book, the atmosphere so well-known from the 2 previous books, as well as the twists and turns in the story that made it so gripping and hard to put down. I was also delighted with the decision Katniss made during the execution of President Snow and all the events leading to it. The only two things I didn't like about the book is how the love story was concluded (too obvious and a bit cheesy - but I'm sure teens will love it) and also the fact that there was no real follow up on the rebellion theme that I enjoyed so much throughout the trilogy. It seems like there could be a lot more done to it rather than just finishing with one sentence stating who the new president is and couple of mentions about some of the characters suggesting that "everything is good now, they're all happy". All in all, the ending just didn't live up to my expectations, even though the book was very enjoyable. I would rate this book better than Catching Fire, but not a 100% as good as Hunger Games (Book 1) - but only due to disappointing ending.
Review by LARA335
16/06/2015
A brilliant series, and thoroughly deserving of its popularity. I found 'The Hunger Games' original, 'Catching Fire' a bit samey, but this rounded off the trilogy perfectly. Plenty of action, but what appealed to me was the clear-eyed look at politics, relationships, the importance of media and its distortions, the rules of society, and, and and... And a surly heroine to boot. I didn't know how this novel was going to end, and almost for that alone it gets 5*'s from me.