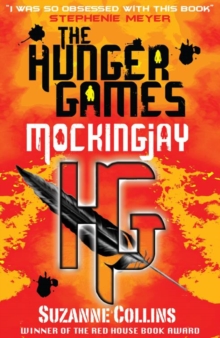 Description
Against all odds, Katniss Everdeen has survived the Hunger Games twice.
But now that she's made it out of the bloody arena alive, she's still not safe.
The Capitol is angry. The Capitol wants revenge... The thrilling final instalment of this ground-breaking trilogy promises to be one of the most talked-about books of the year.
Information
Format: Paperback
Pages: 448 pages
Publisher: Scholastic
Publication Date: 01/08/2010
Category: Adventure
ISBN: 9781407109374
Free Home Delivery
on all orders
Pick up orders
from local bookshops
Reviews
Showing 1 - 5 of 46 reviews.
Previous | Next
Review by seekingflight
16/06/2015
I started reading this with great anticipation and I know a lot of people really enjoyed it. For me, however, the story just didn't hang together very well - there were a lot of potentially really interesting plot and thematic strands, and had a select few of these been developed more fully, this had the potential to be a book that I really enjoyed. Instead, it felt like a little bit of this and a little bit of that, and I couldn't see it as anything more than superficial and mediocre.
Review by The_Librain
16/06/2015
Great final book in the Hunger Games trilogy.
Review by JessicaLouise23
16/06/2015
This is a spoiler free review so if you haven't read the book yet feel free to continue on. Although it may contain spoilers from books one and two so proceed with caution if you haven't read them.Well where do I start with this one? I guess everybody reading this knows how highly anticipated this book has been so it should come as no surprise when I say that I snatched up the first copy I could find and devoured the entire thing in one sitting. I avoided reading reviews on this book until I finished it so when I logged on to my computer this morning I was surprised to see the mixed reviews for it. Some love it some thought it was ok some even hated it but one thing everyone seems to have in common is that they don't quiet know what to say about this book. One thing's for sure either way it will leave you speechless.My thoughts? I personally loved it. A lot of people seem not to like it because they didn't get the happy ending they expected but that's exactly what I loved about it. I thought it was very brave of Suzanne Collins to stay true to the theme of this book and not give in to the pressure of wanting everyone to be happy with it. What you have to remember is that this book is set in a world where the government have gone mad. This is a story of hardship and death and to change that in the final book and make everything just rosy would be unrealistic. This didn't necessarily end how I wanted it to end but it ended how it needed to be ended.Because of this the book is truly heartbreaking to read. The hunger game's is taken out from the arena and is taking place all over Panem. The districts need a Mockingjay and Katniss sacrifices so much to become that person for them. This book is definitely a more heavier, heartbreaking read than the first two books in the series and because of the events that take place in this book the characters change and grow a lot. Some not for the better- another brave move from Suzanne Collins, but again she's keeping it real. If I went through what some of the characters went through I think I'd behave in the same way too. Whilst reading this book I think it becomes clear who Katniss needs to be with. All through the trilogy it could have really gone either way but in this one the change of events due to circumstance make it obvious who is right for Katniss. It was really heartbreaking to read that part because the boy who she doesn't chose moves on to a completely different path and way of life because the passion to take down the capitol is now gone and Katniss realises that's what they were based on. Again no spoilers with that, up until that point it could have gone either way.I cried whilst reading this book, I laughed and I put the book down feeling very confused about how I felt towards it. It's heartbreaking, thought provoking, and controversial. The end is both sad and happy but ultimately hopeful. I can't say that you'll enjoy this book as it clearly isn't for everyone and either way I don't think enjoy is the right word. One things for sure though, you will definitely be mesmerised. 5 stars.
Review by caoimhe.nimhaicin
16/06/2015
I enjoyed this book. It is very absorbing and I'm sure my students will enjoy it too.
Review by rapago
16/06/2015
I looked forward to this book as it is the final book in the trilogy. I can't say that it was all I had hoped it would be. Yes, the story has reached a conclusion. Yes there were some interesting twists to the story of Katniss and the world of Panem. However, when I finished reading this I was not feeling all the fulfilled.I liked the interesting things that happend with Peeta. The way Collins developed his character increased the tension in the story. I did, however, get a little bored with Katniss and her inner turmoil.The action in the first two books was what made them exciting to read. This book doesn't have as much action and the plot tends to drag a little because of it.Overall, I am glad to have read it and would still recommend it to others.
Also in the Hunger Games Trilogy series | View all