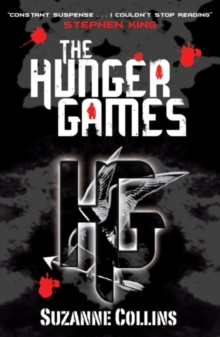 The Hunger Games
Paperback
Description
Sixteen-year-old Katniss Everdeen regards it as a death sentence when she is forced to represent her district in the annual Hunger Games, a fight to the death on live TV.
But Katniss has been close to death before-and survival, for her, is second nature.
The Hunger Games is a searing novel set in a future with unsettling parallels to our present.
Welcome to the deadliest reality TV show ever...
Information
Format: Paperback
Pages: 448 pages
Publisher: Scholastic
Publication Date: 05/01/2009
Category: General
ISBN: 9781407109084
Other Formats
Paperback from £6.89
EPUB from £16.78
Free Home Delivery
on all orders
Pick up orders
from local bookshops
Reviews
Showing 1 - 5 of 43 reviews.
Previous | Next
Review by seldombites
16/06/2015
I had high hopes for this book after reading the blurb on the back. I was not disappointed. <i>The Hunger Games</i> paints a bleak picture of the future, in which citizens live behind barbed wire and are kept on the very edge of starvation. As punishment for a revolt that took place thirty years before, each city is forced to pay 'tribute' in the form of two of their citizens. Each year, on the day of the 'reaping', the citizens of each city are forced to gather and watch as the names of one boy and one girl between the ages of twelve and eighteen are drawn from barrels. If your name is chosen, you must participate in the 'Hunger Games' - the ultimate reality TV show from which there can be just one survivor.This is the most suspenseful young adult novel I have read in a long time. I was on the edge of my seat from beginning to end and was very disappointed when it finished. The characters are very believable, and the story well-written. I can't wait to read the next book in the trilogy!
Review by Fluffyblue
16/06/2015
Absolutely fantastic, I read it really quickly - I couldn't put it down. I was a little disappointed with the ending, but can't wait to read the next book...
Review by blackjacket
16/06/2015
Brilliant young adult fiction. Genuine page turning adventure with thoughtfully rendered characters. Reminiscent of Stephen King's novella "The Long Walk", only this author sustains the suspense for close to 500 pages, and the attention to social detail is done with a much keener eye. Katniss's emotions are a hard nut to crack, but I felt for her every step of the way nonetheless.
Review by LadyHazy
16/06/2015
Incredibly similar to the Japenese film Battle Royale, and reminiscent of Stephen King's book The Long Walk.All of them are situated in dystopian futures where a group of minors are pretty much sentenced to death, a death which will be broadcast to the world as 'entertainment', and used a means to relay a warning that the government are more powerful than the citizens and can do as they please.In The Hunger Games' case, the future America (now called Panem) is made up of 12 Districts, each District serving a purpose, whether mining, fishing, farming, etc. The produce from every District is used mostly to benefit the affluent citizens living within the Capitol, leaving the District natives suffering with poverty and starvation.Every year the Government living in the Capitol hosts The Hunger Games, where a boy and a girl (aged 12 - 18) from each of the 12 Districts is selected at random to enter a televised event where all 24 'tributes' will have to kill or be killed in an arena containing various weapons and utilities.The last remaining survivor will return to their District a hero with a new life of fame and fortune and the Governments reward of one years supply of food for their District.This is a very enjoyable book to read, and incredibly quick to read, I found that I could not put it down once I had started.Suzanne Collins has created a realistic environment which contains plenty of imaginitive ideas and concepts adopted by a future world.The characters are also very believable, a lot of which have more dislikeable traits than likeable ones.I would strongly recommend this for both young adult and adult readers, it is certainly one of the 'crossover' books.I have not read the second part of the trilogy (which I have recently ordered online) and I am not currently convinced this book needs continuing, it could stand pretty much alone a a single work of fiction. We will see...
Review by erademeyer
16/06/2015
This is what belonging to a reading group is all about , finding an absolute gem! This is survival under the harshest of scenarios, all that is good about human nature pitted against all that is evil. Two young people are randomly chosen from each of 12 impoverished Districts to compete in the Hunger Games as a punishment for previous rebellion against The Capitol. There can only be one winner and every moment of the battle is televised live to a population that is in thrall to the horror. This is unforgettable, a must read!
Also in the Hunger Games Trilogy series | View all