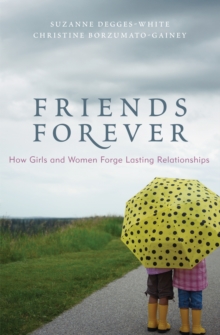 Friends Forever : How Girls and Women Forge Lasting Relationships
Paperback / softback
Description
Through thick and thin and everything along the way, it's through friendships that we understand our lives.
In this book, authors Suzanne Degges-White, PhD and Christine Borzumato-Gainey, PhD not only explore the roles friendships play for girls and women over the course of a life, but offer a guide to finding new friends and enhancing current relationships.
Using interviews with hundreds of women, spanning the ages of 4 to 94, Friends Forever provides readers with a contemporary perspective on female friendship.
These personal stories, informed by the latest research on friendship, offer a rich and colorful picture that combines a life stage chronology of friendship with a guide for becoming the friend you would like to have while building strong friendships along the way. Readers will learn how to design and sustain their ideal friendscape, the dynamic and often misunderstood realm in which such bonds flourish.
The authors thoughtfully examine the biological and cultural drive towards social connections among women and provide self-reflection and self-exploration opportunities that encourage readers to better understand their own roles in relationships and the roles that others in their social landscapes play.
Information
Format: Paperback / softback
Pages: 296 pages
Publisher: Rowman & Littlefield
Publication Date: 22/10/2013
Category: Social interaction
ISBN: 9781442202016
Other Formats
EPUB from £48.55
Hardback from £33.65