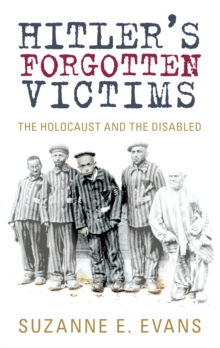 Hitler's Forgotten Victims : The Holocaust and the Disabled
Paperback / softback
Description
The appalling story of Hitler's murderous policies aimed at the disabled including tens of thousands of children killed by their doctors. Between 1939 and 1945 the Nazi regime systematically murdered thousands of adults and children with physical and mental disabilities as part of its 'euthanasia' policy.
These programmes were designed to eliminate all people with disabilities who, according to Nazi ideology, threatened the health and purity of the German race.
Hitler's Forgotten Victims explores the development and workings of this nightmarish process, a relatively neglected aspect of the Holocaust. Suzanne Evans's account draws on the rich historical record, as well as scores of exclusive interviews with disabled Holocaust survivors.
It begins with a description of the Children's Killing Programme, in which tens of thousands of children with physical and mental disabilities were murdered by their doctors, usually by starvation or lethal injection. The book goes on to recount the AktionT4 programme, in which adults with disabilities were disposed of in six official centres, and the development of the Sterilisation Law, which allowed the forced sterilisation of at least half a million young adults with disabilities.
Information
Format: Paperback / softback
Pages: 192 pages
Publisher: The History Press Ltd
Publication Date: 01/05/2010
Category: Second World War
ISBN: 9780752454023
Free Home Delivery
on all orders
Pick up orders
from local bookshops