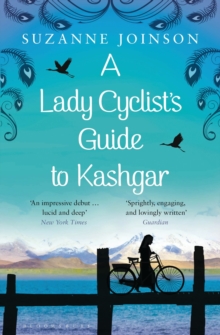 A Lady Cyclist's Guide to Kashgar
Paperback
Description
It is 1923 and Evangeline English, keen lady cyclist, arrives with her sister Lizzie and their zealous leader Millicent at the ancient city of Kashgar to establish a mission.
As they encounter resistance and calamity, Eva commences work on her Lady Cyclist's Guide to Kashgar... In present-day London, Frieda opens her door to find a man sleeping on the landing.
Tayeb, a Yemeni refugee, has arrived in Frieda's life just as she learns that she is next-of-kin to a stranger, a woman whose abandoned flat contains many surprises.
The two wanderers embark on a journey that is as great, and as unexpected, as Eva's.
Information
Format: Paperback
Pages: 384 pages
Publisher: Bloomsbury Publishing PLC
Publication Date: 01/03/2013
ISBN: 9781408830918
Other Formats
EPUB from £6.39
CD-Audio from £15.45
Free Home Delivery
on all orders
Pick up orders
from local bookshops
Reviews
Showing 1 - 5 of 6 reviews.
Previous | Next
Review by Glorybe1
16/06/2015
I really enjoyed this book, a story in 2 parts really. Eva and her sister Lizzie who are trying to establish a mission in Kashgar in the 1920s. They arrive to the scene of a young girl of 10 or 11 giving birth under a tree. Things go from bad to worse when the european women are accused of murdering the girl and are held under house arrest, with the girls baby.The other half of the story involves Frieda, in the present day, who has mysteriously been left the contents of a flat in England, thousands of miles from Kashgar, from someone she has no knowledge of! You are left wondering how on earth these 2 stories become one and the book has you guessing right up until the point it is revealed!A charming if unsettling book looking at the relationships between dramtically differing cultures.A really fascinating read.
Review by greatbookescapes
16/06/2015
This story was very involved and I struggled to get through it. My mind kept going back to the Kashmir Shawl which was also along similar lines with missionaries then, and relatives now. <br/><br/>I think the title of this book was misleading as it gave a promise of something else.<br/><br/>This is a good book and is nicely written, but it did not suit my reading. <br/><br/>(Won in giveaways)
Review by greatbookescapes
16/06/2015
This story was very involved and I struggled to get through it. My mind kept going back to the Kashmir Shawl which was also along similar lines with missionaries then, and relatives now. <br/><br/>I think the title of this book was misleading as it gave a promise of something else.<br/><br/>This is a good book and is nicely written, but it did not suit my reading. <br/><br/>(Won in giveaways)
Review by greatbookescapes
16/06/2015
This story was very involved and I struggled to get through it. My mind kept going back to the Kashmir Shawl which was also along similar lines with missionaries then, and relatives now. <br/><br/>I think the title of this book was misleading as it gave a promise of something else.<br/><br/>This is a good book and is nicely written, but it did not suit my reading. <br/><br/>(Won in giveaways)
Review by greatbookescapes
16/06/2015
This story was very involved and I struggled to get through it. My mind kept going back to the Kashmir Shawl which was also along similar lines with missionaries then, and relatives now. <br/><br/>I think the title of this book was misleading as it gave a promise of something else.<br/><br/>This is a good book and is nicely written, but it did not suit my reading. <br/><br/>(Won in giveaways)