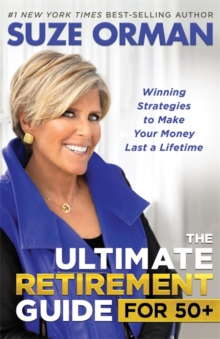 The Ultimate Retirement Guide for 50+ : Winning Strategies to Make Your Money Last a Lifetime
Hardback
Description
THE PATH TO YOUR ULTIMATE RETIREMENT STARTS RIGHT HERE When you think about planning for retirement - whether it's years in the future or just around the corner - you're bound to have questions.
Can I ever afford to stop working? Will Social Security be there for me when I need it?
How can I make my money last? Have I waited too long to start saving? Suze Orman, America's most recognized expert on personal finance, answers all the questions that keep you up at night - starting with the biggest one: It is never too late to start planning for a next act that's fulfilling and secure.
With her signature blend of compassion, insight, and expertise, Suze guides you toward a plan that will put you in control of your financial future and help you to create the retirement you deserve.
SUZE GIVES YOU THE STRAIGHT TALK ON: * Moves to make-and not make- while you're still working * How to invest safely in retirement- with just the right amount of risk * Out-of-the-box ideas to find a new role for your next act * How to lower your living costs now in ways that can have a big impact down the road * Decisions to make before you reach age 70 * Roth IRAs, 401(k)s, annuities, HSAs, and long-term care insurance * The must-have documents to put in place today * The Five Laws of Money to take with you into your Ultimate Retirement years (some of them may surprise you) * And much more
Information
Format: Hardback
Pages: 320 pages
Publisher: Hay House Inc
Publication Date: 25/02/2020
Category: Personal finance
ISBN: 9781401959920