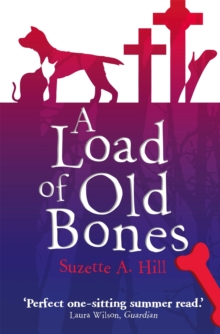 A Load of Old Bones
Paperback
Description
All the Reverend Francis Oughterard had ever wanted was some peace and quiet, instead he becomes entangled in a nightmare world of accidental murder, predatory female parishioners, officious policemen and a drunken bishop.
As the vicar's life spirals out of control it is his supercilious cat, Maurice, and bone obsessed hound, Bouncer, who save the day.A Load of Old Bones is a charming and farcical romp through a 1950's mythical Surrey.Praise for Suzette A.
Hill:'Perfect one-sitting summer read.' Laura Wilson, Guardian'E F Benson crossed with Jerome K Jerome' The Times audiobooks review'Quite why this series should be charming, astringent and witty, instead of emetically twee, I am not sure, but it is entirely delightful' Guardian'This dry, funny British gem, with its eccentric cast of characters, will have readers laughing and eagerly awaiting the next episode' Publishers Weekly
Information
Format: Paperback
Pages: 208 pages
Publisher: Little, Brown Book Group
Publication Date: 20/12/2001
Category: Crime & mystery
ISBN: 9781849010962
Free Home Delivery
on all orders
Pick up orders
from local bookshops
Reviews
Showing 1 - 1 of 1 reviews.
Review by cathyskye
10/11/2015
I downloaded this book to my Kindle on the strength of the synopsis and recommendations from friends, and then I promptly forgot about it. I've been making a point to go back to read the earliest books I downloaded. I'm not much of a cat person, so when A Load of Old Bones started out with "The Cat's Memoir" in Maurice's voice, I didn't know how far I would be able to read. That uncertainty held until chapter three, "The Dog's Diary." When I read the very first thing Bouncer the dog said, I burst into laughter.This book reminds me of the old "Columbo" television series when you knew the identity of the killer and all you had to do was sit back and watch the detective put all the clues together to catch him. What made me a bit uneasy is how quickly I accepted Oughterard killing a woman and covering it up. It undoubtedly has a lot to do with the fact that the dreaded Mrs. F. is the type of person who makes most of those who meet her want to strangle her.As a fan of Spencer Quinn's Chet and Bernie mysteries, I have no problem with dogs (and the occasional cat) speaking to me, but what surprised me was how harmoniously the voices of Oughterard, Bouncer and Maurice blended together. Between the three of them, a reader gets the complete picture, and watching these two animals come to the aid of the vicar is laugh-out-loud funny.There is very little interplay between the characters in A Load of Old Bones. You're going to spend most of your time in the heads of a vicar, a dog, and a cat. I had a delightful time there; however, I don't think I want to repeat the experience. There are other books in this series, which came as no surprise because there was a strong foreshadowing of blackmail at the end, but I don't think I'd find another visit to Molehill to be nearly as much fun. I'd rather stop with this book and keep the good memories and the smile on my face.