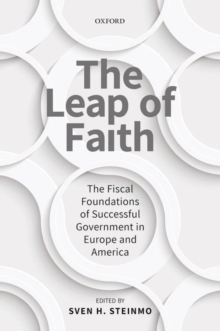 The Leap of Faith : The Fiscal Foundations of Successful Government in Europe and America
Hardback
Description
This is an open access title available under the terms of a CC BY-NC-ND 4.0 International licence.
It is free to read at Oxford Scholarship Online and offered as a free PDF download from OUP and selected open access locations. Why are citizens in some countries more willing to pay taxes than in other countries?
This book examines the history of the relationship between citizens and their states in five countries, (Sweden, Britain, Italy, Romania, and the United States), and demonstrates how and why people in in some countries have come to trust the government with their money while in other countries they do not.
The book explores the evolution of this relationship in detail, in each case showing how some governmentsdeveloped the fiscal and technical capacity to tax their citizens fairly and deliver public services efficiently.
In short, how and why some countries became more trustworthy than others. The volume concludes by examining the implications of these five cases for developing countries today and thelessons that can be learned.
Information
Format: Hardback
Pages: 336 pages
Publisher: Oxford University Press
Publication Date: 16/08/2018
Category: Comparative politics
ISBN: 9780198796817
Free Home Delivery
on all orders
Pick up orders
from local bookshops