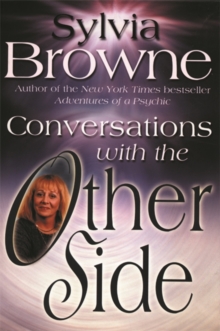 Conversations with the Other Side
Paperback
Description
This book is a dissertation on life, afterlife, and reincarnation given by Sylvia Browne's spirit guide, Francine.
Within these pages, you'll find a 'gnostic' view of the world and the reason for life.
Information
Format: Paperback
Pages: 176 pages
Publisher: Hay House Inc
Publication Date: 22/01/2002
Category: Spiritualism
ISBN: 9781561707188
Free Home Delivery
on all orders
Pick up orders
from local bookshops
Reviews
Showing 1 - 1 of 1 reviews.
Review by madamejeanie
16/06/2015
Yep, another "wierdo, out-there" book. LOL This one is a dissertation onlife, afterlife, before life, and reincarnation, "given" to us by Sylvia'sspirit guide, Francine. Yeah, I know that sounds goofy from the get-go, butI still wanted to read this, just to see what it says.Some of you won't be interested in the entire subject, and for those of youwho are not, just click "next message" and move along.If you are still with me, though, perhaps you, too, are interested in thesubject of reincarnation. According to statistics in this book, well overtwo thirds of the world's population believes in reincarnation. This bookattempts to explain the process and it does make a great deal of logicalsense. We were, all several billion of us, created at the same exactinstant, with the singular goal of perfecting our souls to further thewisdom of God. We pick a Life Theme and come into this dimensional world inorder to perfect that theme. Some do it in just a few lives, others chooseto spread it out over many lives.This book attempts to explain the process we go through, on the Other Side,when we decide to incarnate again. The plans that we make for our lives arevery detailed and would take years of Earth time to compose, just as theytake years to complete. We chart everything into our life plan, from whatparents we will have, to what color we will be, where and when we will "comein," every detail of experience we will have. The purpose of all of this isto experience all forms of negativity that will shape and perfect our souls.We have to come here in order to do this because there is no negativity onthe Other Side. She stresses that it is only through adversity that wegrow, something that I've known for a long time, intuitively. There is ahuge difference between reading about something and experiencing itourselves, and while the life charts of every human who ever lived areavailable on The Other Side for research and study, the only way we cantruly understand it is to live through it ourselves.As I said, this book won't be for everybody, but if you are interested inthe subject, I would definitely recommend this particular book. I enjoyedit a lot and it's a quick read, but with plenty of food for thought, Ithink. I give it a 4.