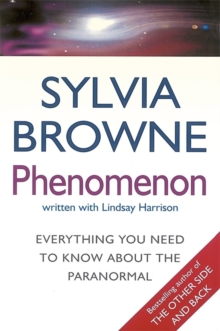 Phenomenon : Everything you need to know about the paranormal
Paperback
Description
In this compelling new book, bestselling author Sylvia Browne offers her most comprehensive guide to the afterlife.
Phenomenon is a fascinating compendium of all things on the Other Side that influence our life here on Earth.
Sylvia Browne provides evocative stories and powerful explanations to help make life on the Other Side real for all of us.
In Phenomenon, she provides reassuring answers to questions such as: Atlantis - Where did it go and when will it return? Clairvoyance - How do you know if you have the gift? Deja vu - Are past lives the answer to this strange phenomenon? Ghosts - What are they? Miracles - Can they happen every day? Reincarnation - Have we lived before? Sorcery - Is there something we should fear? Zombies - Are they only in horror movies? An easy-to-use reference full of hope and guidance, Phenomenon is sure to have wide appeal among Browne's loyal fans and anyone in search of signs of the paranormal.
Free Home Delivery
on all orders
Pick up orders
from local bookshops