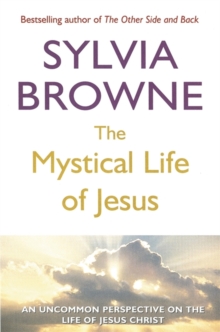 The Mystical Life Of Jesus : An uncommon perspective on the life of Jesus Christ
Paperback / softback
Description
New discoveries in archaeology and recent bestsellers and movies like THE DA VINCI CODE and PASSION OF THE CHRIST have sparked a renaissance over the many controversies that have remained unanswered in Christianity and other religions.
At the heart of these controversies is Jesus. With a unique perspective only Sylvia Browne could bring, THE MYSTICAL LIFE OF JESUS is filled with the details of Jesus' inspiring life, including his birth, childhood, travels, ministry, miracles, crucifixion, death and resurrection.
Sylvia addresses all of the major controversies surrounding Jesus: Was he married? Was he divine? What did he do for the first thirty years of his life? Was it a virgin birth? Was there a Star of Bethlehem? Was it a miracle at Canaan (and who was getting married)?
Using her unique relationship with her spirit guide and her years studying the controversial Gnostic texts, Sylvia answers all of these questions with a confidence and authority only someone who has visited the afterlife can have.
Information
Format: Paperback / softback
Pages: 272 pages
Publisher: Little, Brown Book Group
Publication Date: 02/04/2009
Category: The historical Jesus
ISBN: 9780749928469