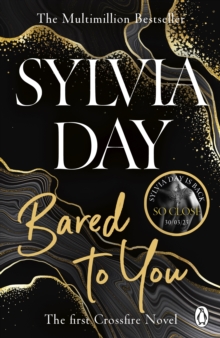 Bared to You : A Crossfire Novel
Paperback
Part of the Crossfire series
Description
The first book in the darkly sensual and seductive Crossfire series, from International bestselling author Sylvia Day.Overcoming her past made Eva strong.
She's in control and she knows what she wants. When a seductive, powerful man enters her life, she won't back down easily . . . Gideon Cross came into my life like lightning in the darkness - beautiful and brilliant, jagged and white hot.
I was drawn to him as I'd never been to anything or anyone in my life.
I craved his touch like a drug, even knowing it would weaken me.
I was flawed and damaged, and he opened those cracks in me so easily . . .Gideon knew. He had demons of his own. And we would become the mirrors that reflected each other's most private wounds . . . and desires.The bonds of his love transformed me, even as I prayed that the torment of our pasts didn't tear us apart . . .Intensely romantic, darkly sensual and completely addictive, Bared to You will take you to the very limits of obsession - and beyond.
Information
Format: Paperback
Pages: 368 pages
Publisher: Penguin Books Ltd
Publication Date: 01/07/2012
Category: Adult & contemporary romance
ISBN: 9781405910231
Free Home Delivery
on all orders
Pick up orders
from local bookshops
Reviews
Showing 1 - 5 of 5 reviews.
Review by rnally
16/06/2015
Very similar to the Fifty Shades Trilogy
Review by boppisces
16/06/2015
Eve moves to Manhattan and starts a new job. In the same building as her job, she meets the wealthy and domineering Gideon Cross. Both have been traumatised by events in their childhoods. A passionate love affair means they have to deal with past issues.Eve's frustrating neediness is quite irritating. I kept reading as I wanted to find out what Gideon's traumatic childhood experiences were. Imagine my frustration when I reached the end of the book to find out that it is the first in a series and I would need to read another book to find out. I think not!
Review by celerydog
16/06/2015
Good god, how can Groundhog Day with abs go on for 300+ pages? I was snorting with laughter for most of the bumpy journey, but the icing on the cake was the readers' discussion guide at the end. Excellent beach or rainy day read.
Review by LaurenKathryn
16/06/2015
Easy read and not too difficult to understand or keep up with. It was recommended to me by my sister who knew I had read the fifty shades trilogy.<br/><br/>I would say that this book, or even the series, may not be everyone's cup of tea. They might be expecting another fifty shades and, even though it did mirror a lot that series' concepts and plots, it was quite mild in comparison. It was entertaining and enjoyable in parts, but the constant arguments the characters had was giving me whiplash. They were happy on one page, arguing on the next and then making up 2 pages on! I know they all have their own demons but come on! The story never really progressed in my opinion. It's just constant arguments and sex. If you like that sort of thing then go for it, but I prefer my stories to develop, not repeat itself over and over again.
Review by v_allery
16/06/2015
More romantic than dark, this novel explores a very new and very frightening relationship and the way it develops into deep love and genuine trust. I loved it for expoloring all those fears a person has in the beginning - of being honest & sharing dark secrets, of losing someone you fell for hard and fast... Not to mention the sex scenes, which never seem dirty, but always passionate, real, full of both love and desire.