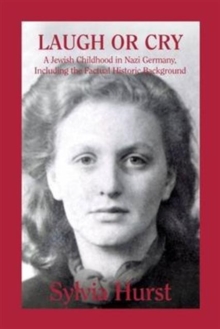 Laugh or Cry: A Jewish Childhood in Nazi Germany, Including the Factual Historic Background
Hardback
Description
Sylvia Hurst (nee Fleischer) was fortunate enough to be on one of the last Children's Transports by train from Hamburg to London before the outbreak of World War II.
This is the story of her childhood in the year during which Hitler came into power, years that saw the fearful rise of Nazism and the extraordinary brainwashing of an entire nation into the belief that all their troubles could be solved by the elimination of the very people who, for decades, had contributed most to the German economy, the Jews.
Jews had become Schutzjuden (protected Jews) of the local Lord at the end of eighteenth century, and they developed the local industry to the great benefit of the population. Born into a wealthy middle-class family - successful founders of the corset industry, owning factories in Germany and abroad - hers was a happy, indeed idyllic, childhood.
Her father had no interest in the corset industry, and became a doctor of Nature-cure.
The young Albert Einstein spent most of his school holidays with her father.
He was a distant relative and their close friendship was kept up all their lives. Slowly the storm-clouds gather - almost imperceptibly - but gradually their effects become less easy to ignore.
Names are called in the street; graffiti appears on walls; travel is restricted; money is in short supply.
Then comes the destruction of Cristall Nacht. There is a necessity for the Jewish people to emigrate, however society makes it a struggle to get the necessary visas and permissions.Through all of this the author is developing into a young woman with all the emotional and physical strains of adolescence.
Laugh or Cry is a vivid memoir, written with tenderness, humour and sincerity, a tale of courage and stoicism in a world that is gone forever.
Information
Format: Hardback
Pages: 384 pages
Publisher: Sylvia of Durham Publishers
Publication Date: 17/12/2015
ISBN: 9780993389702
Free Home Delivery
on all orders
Pick up orders
from local bookshops